Being about 116 kms from our home, we decided to ride to Lepakshi, both to visit the place, which does offer some great photo opportunities, as well as to continue getting accustomed to riding, as part of our preparation plan to travel across Kerala on bike for about 9 days. The only catch was that the majority of the route was a highway making this ride very easy (even the non-highway part of the roads were in fantastic condition!)
Prep Before the Journey
The only prep was to ensure that the bike was in good condition and that there was enough fuel. Since it was a day trip, there wasn't much to plan.
Ride to Lepakshi
Again, because it was a day trip, we started pretty late, by around 10:00 AM. Our home is on the Hennur Bagalur Road and we continued on that road till we reached the Airport approach stretch. This road is a toll free alternative to main toll road to Airport but is in fantastic condition (except for small patches here and there). Note that if you wish to drive beyond the Airport on highway, there will be a toll applicable for LMVs and large vehicle (no toll for bikes).
The rest of the drive was pretty straightforward and easy and we continued of the Highway till we reached our first stop (close to the Bagepalli toll gate) for an early lunch. We stopped at this restaurant, Hotel Mayuri, where we had meals as well as Paneer fried rice, both of which were satisfactory (not great but not bad as well).
Post lunch we were back on the road and were cruising at around 80 to 90 kmph with ease (can't seem to get the Classic 350 past 90 though except when there was a slight slope which pushed the bike to a 100 but only for a short while).
We reached Kodikonda in no time and took the left to Lepakshi Road. Lepakshi town was about 15 kms from here and the road again is in good condition with small stretches of bad roads (or more like no roads) here and there. We reached Lepakshi in no time.
Check out the Vlog
Lepakshi Nandi
Our first stop was at the Nandi statue and the park that it is situated in. We stopped here for about 45 odd minutes, clicking away and just sitting and relaxing in the park. This place offers some god views especially with the Jatayu in the background as well. There is no entrance fee for this park.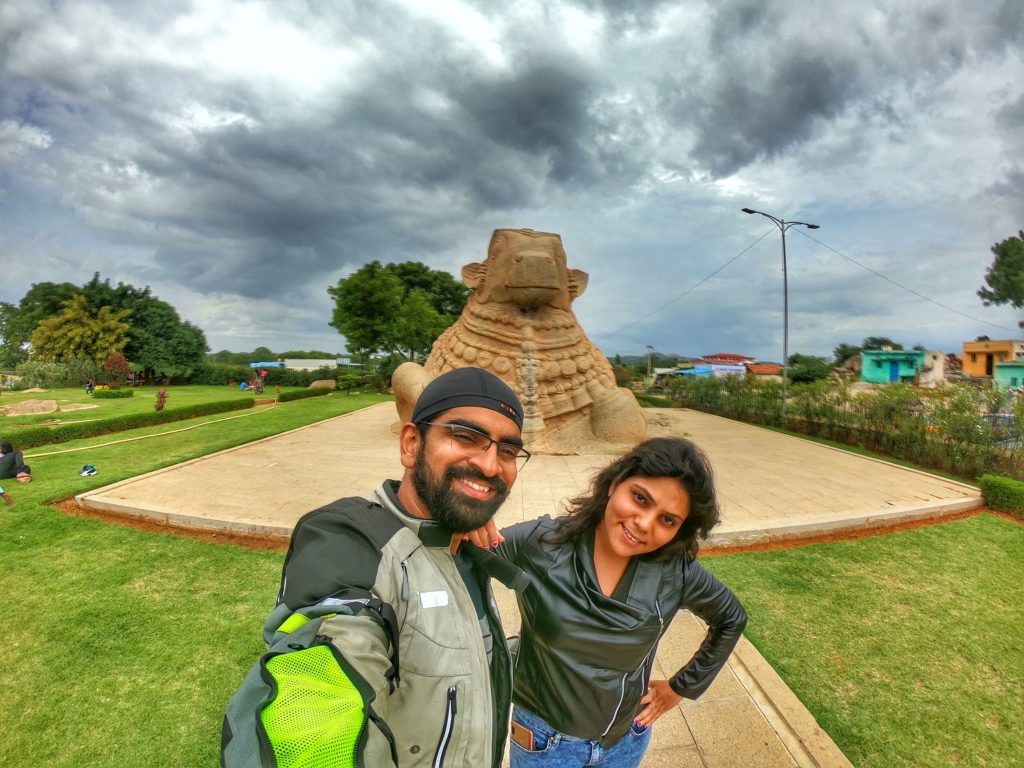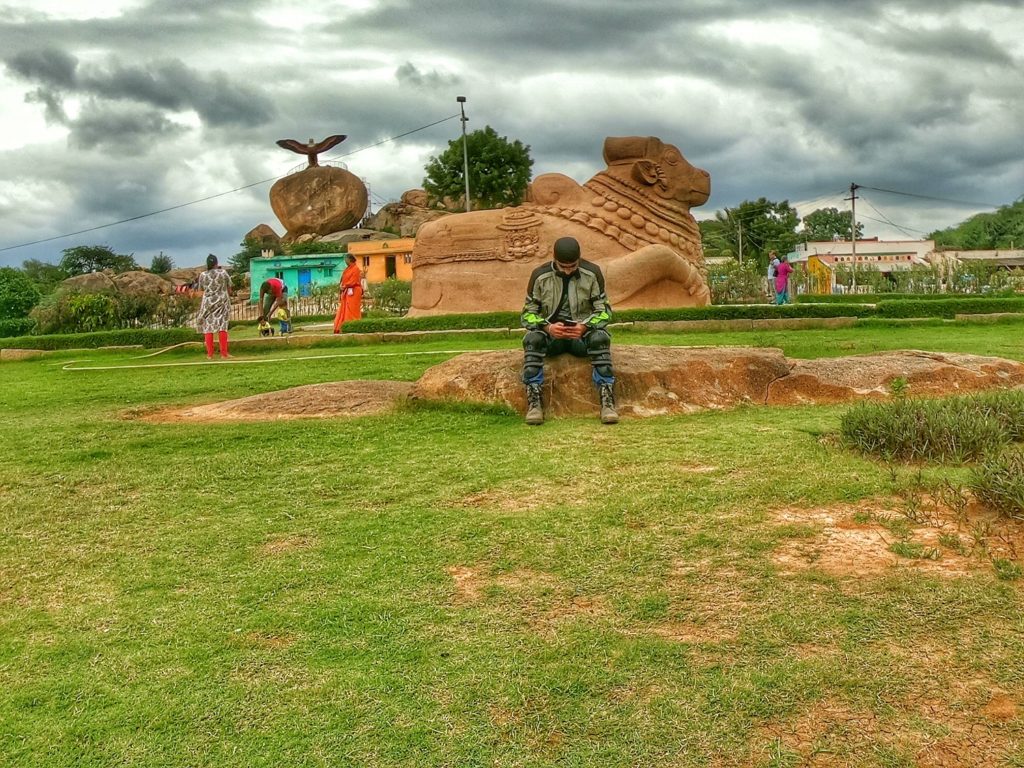 Jatayu Statue
This is another park that is situated close to the Nandi statue. In fact, this is the first attraction as you enter the town. The Jatayu statue is situated a height and the tourism development corporation has constructed stairs to the viewpoint which does offer some good view. Try to get in some photos with the Jatayu in the background!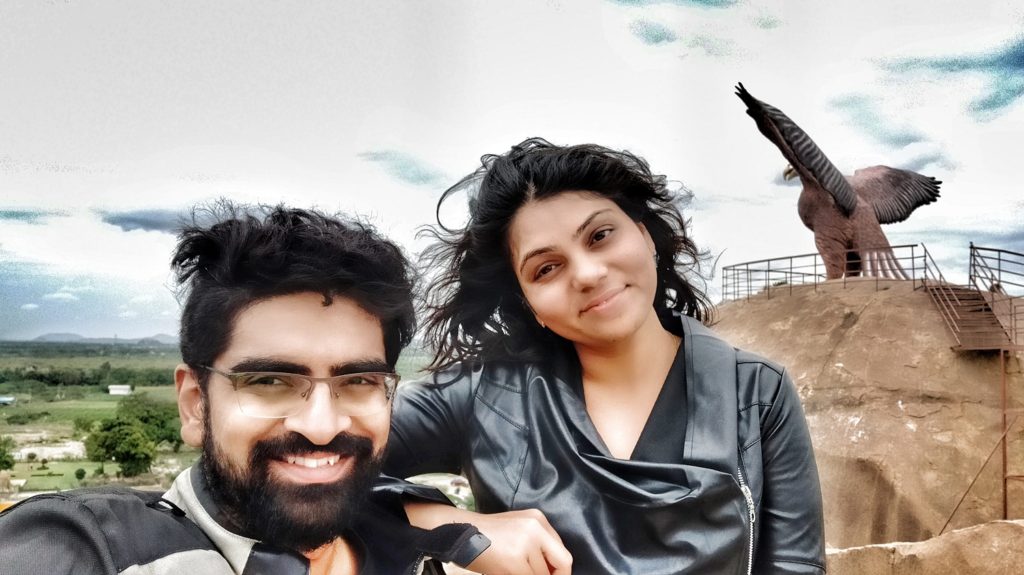 We spent about 30 minutes at this place, again, enjoying the views and clicking a lot of pics. From this point, one can view the Nandi as well the Temple that this town is famous for! Offers some beautiful panoramic views.
Veerabhadra Swamy Temple
This was our last sightseeing stop for this trip. To be entirely honest, this looks more like a fort than a temple. There is a lot of place to walk around, sit and relax (a lot of shade) and of course click a lot of photos! Some perspective shots, some landscape shots and of course some portraits as well. You will get enough opportunity to experiment. The sun, which wasn't visible for the entire ride, suddenly appeared out of the clouds and this prompted us to just sit back and relax inside. Which also gave us some opportunities to try out some photography.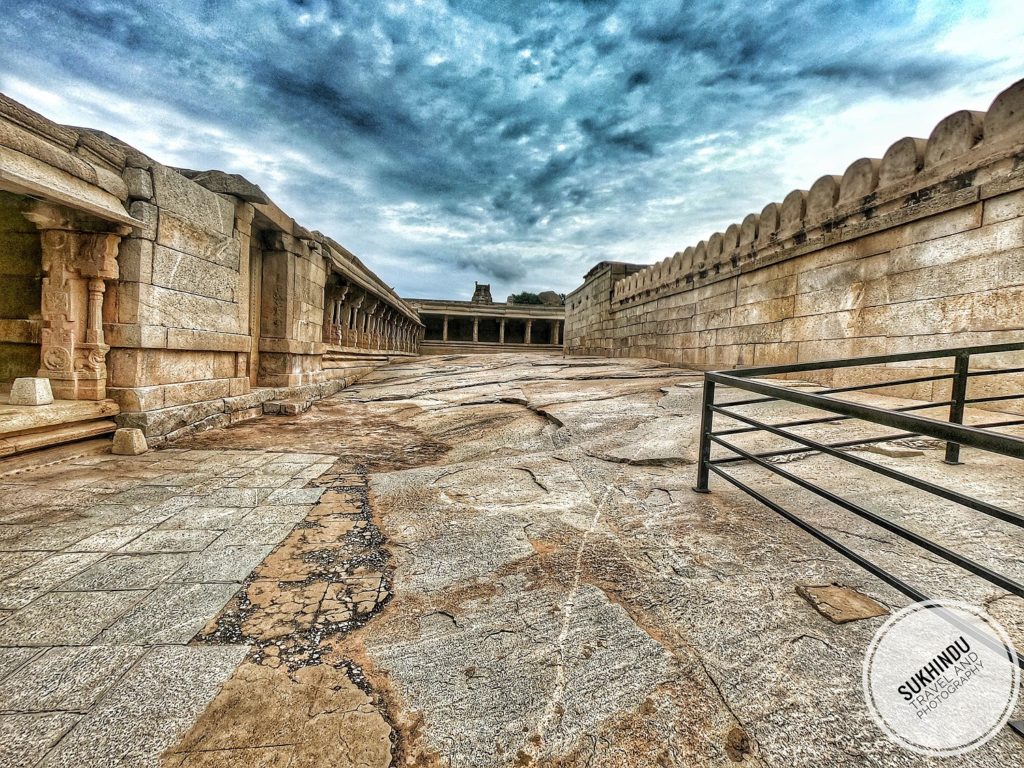 After spending about an hour and a half here, we were back on the road on the way back home! We stopped at Indian Paratha Company for some Lassi and Pakodas and reached home well before dinner time (though the pakodas from IPC were quite filling and we hardly had any food after reaching home!).
That marks the end of the quick day trip to Lepakshi! The next trip isn't quite far away, since we are planning to visit Kerala soon!
Happy Riding and Safe Travels!
The RE Travelers