French quarters dotted with mustard-yellow colonial structures, cosy cafes with French cuisine, chic boutiques with a number of them nestled along the gorgeous seaside promenade. This is what Pondicherry (Puducherry), or Pondy, as it's fondly called, welcomes you with on its boulevards and rues, which the french word for streets! And this is what we set out to explore one weekend on our Royal Enfield Classic 350. Read on to know more about our experience and how we spent the weekend!
Prep Before the Journey
Not exactly the monsoons, but the weather was indeed quite cloudy for the past two weeks. Therefore, we ensured that our saddle bags had rain covers that we also carried raincoats along with a couple of clothes to change into for the next day and for the ride the day after (and of course, the regular spares such as spark plugs, cables and the Motul Tyre Repair, in case of flat tyre enroute).
Riding Gear
Riding Jackets: Solace Furious V2 & Solace Asmi V3.0 (Read our reviews here (Furious) and here (Asmi))
Riding Pants: Solace Coolpro (Read our review here)
Gloves: Full Gauntlet by Biking Brotherhood Gears (Read our review here)
Boots: Racing Boots by Biking Brotherhood Gears (Review coming up soon)
Helmet: Twister by SMK (Read our review here)
Saddle Bags by Solace (Review coming up soon)
Tank Bag by Viaterra (Review coming up soon)
Action Camera: Hero7 Black by GoPro (Review coming up soon)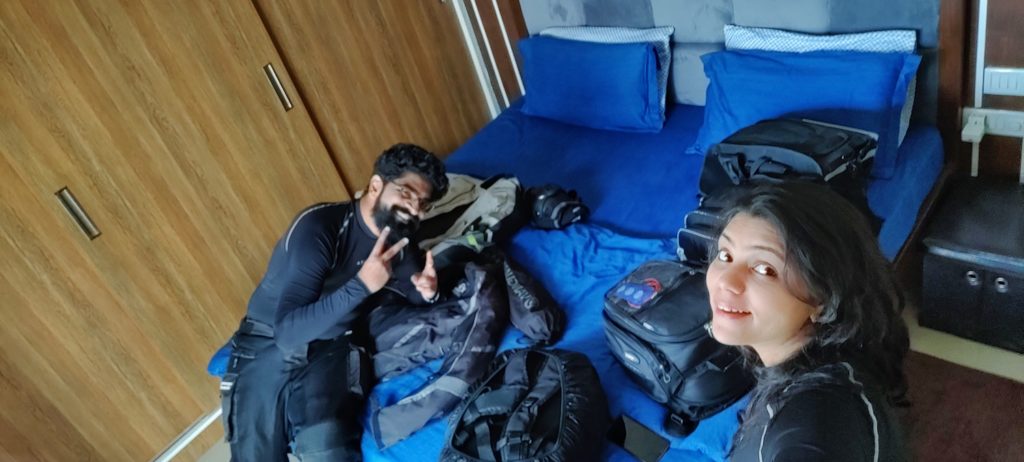 Day 1 – Riding to Pondicherry
Given that we had to cover about 370 kms today, we had planned to start from home at 7:30 AM. With Google Maps estimating 6 h 58 min of riding time, we assumed that we would reach our hotel just after lunch time. And similar to most of our trips, we started 2 hours late, at 9:30 AM!! After getting our bike all set and ready, we were on our way to Pondicherry!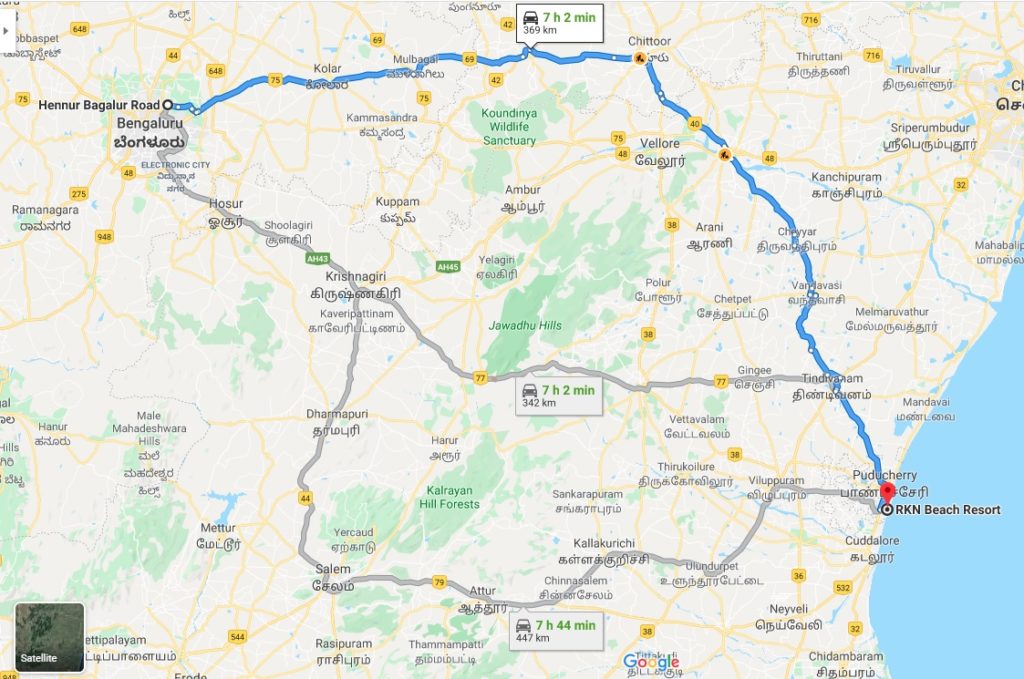 Breakfast Stop
The route that we'd be taking today will pass through Kolar, Mulbagal, Chittoor, Ranipet and Tindivanam before reaching Pondicherry. Most of the route was a National Highway (75, 69 and 40) and as expected the roads were good for most parts. We had planned to stop for breakfast at Maiyas Restaurant in Kolar which is about 1.5 hrs ride from home. We reached there as expected by 10:50 AM, quickly filled up the tank at the Shell petrol station and walked to Maiyas to enjoy a wholesome breakfast!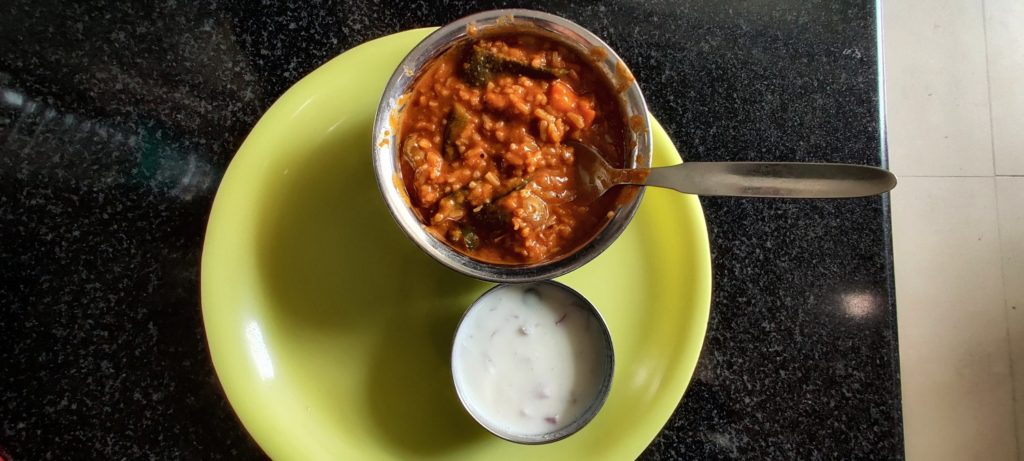 Route to Pondicherry
For most parts, the route to Pondicherry is pretty good. The stretch from home till Andhra border at Mulbagal is a well maintained highway and the stretch from thereon till Chittoor bypass is an even better white topped road and we could easily cruise at 85 to 90 kmph!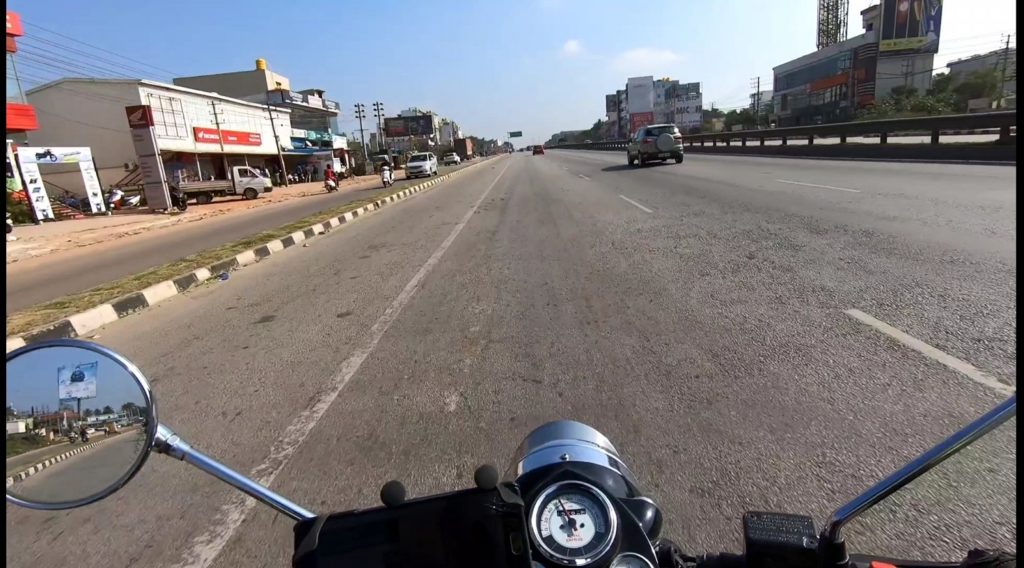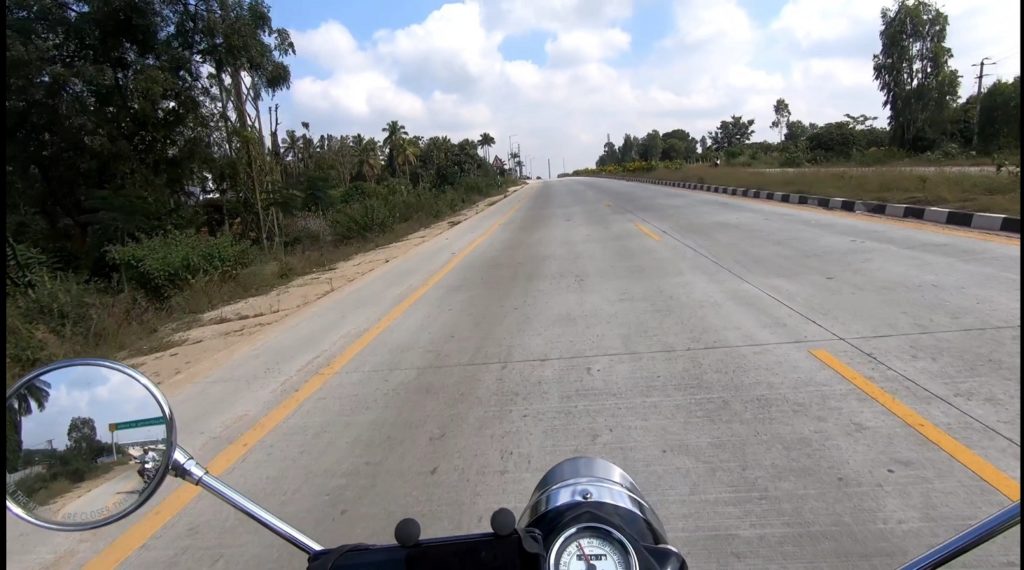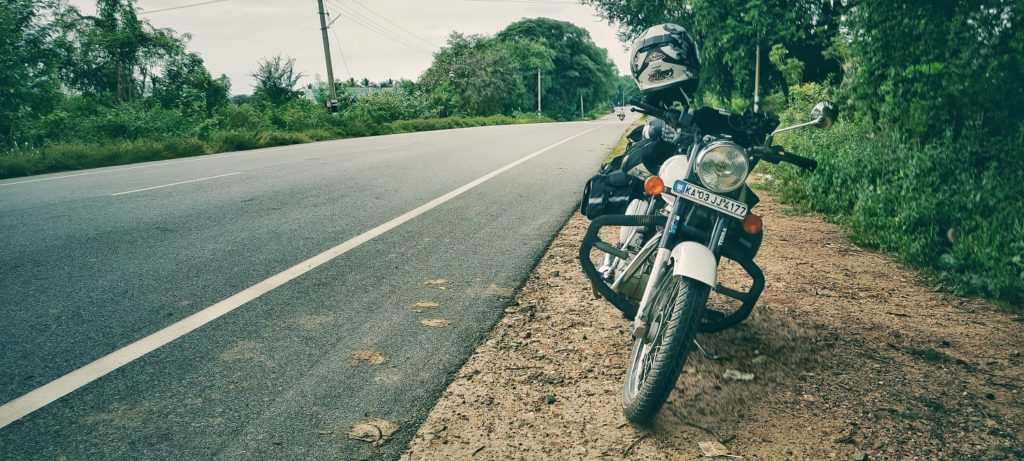 However, this changes after reaching the Chittoor bypass. While the intent to convert the roads to a white topped highway is visible, it is still a work in progress. And this had significantly slowed down our progress till we reached Tamil Nadu border.
The roads in Tamil Nadu, for most parts, were single lane highways but were in good condition throughout. And this made riding in the rain all the more easier! Yes, it started raining on the way to Pondy, in December!!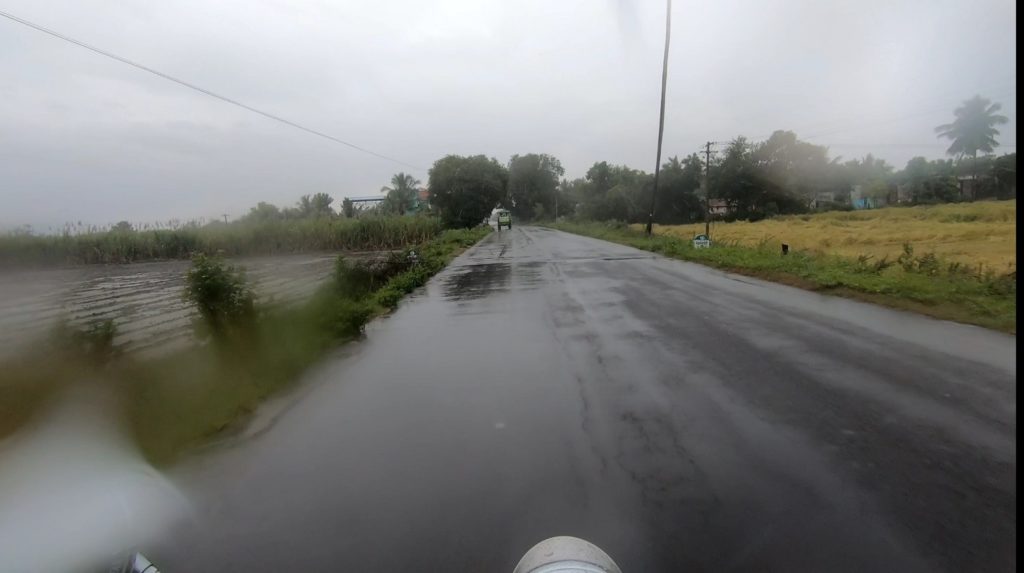 By the time we reached our hotel, it was already 6:30 PM and we soon checked in, freshened up, ordered room service as we were starving! We had planned to explore the resort that night but rain gods had a different plan for us and we were stuck inside the room, eating food, watching TV and planning for the next day!
For those of you looking for hotels in Pondicherry, check out RKN Beach Resorts (Read our TripAdvisor Review here and our Detailed Review Here)
Day 2 – Exploring Pondicherry
Mornings @ RKN Resort's Beach
Before reaching Pondicherry, we had planned to witness the sunrise from hotel's beach area early in the morning. However, because of the rains, we had deferred this plan to the next day and rightly so. By the time we woke up (at around 6:45) it was pouring! The rain stopped by around 8:00 AM and by then we had freshened up and were ready to have breakfast before hitting the beach!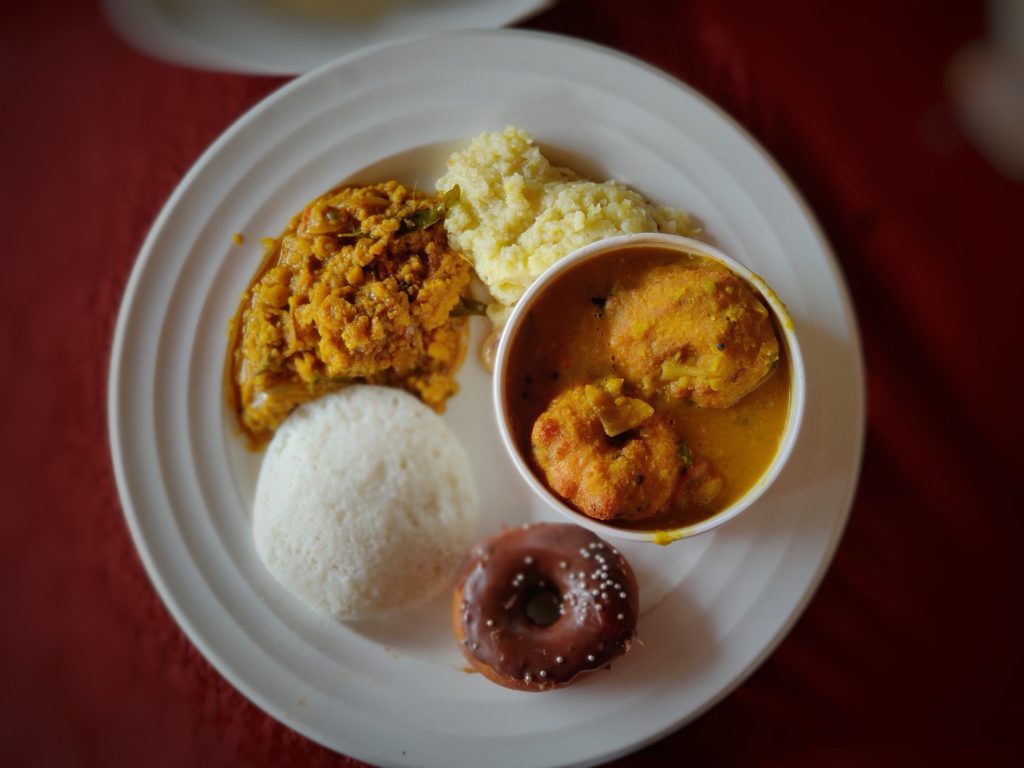 Now, RKN has a dedicated entry to the beach with it's own gate and a security person at this gate. This gate is open from 6:00 AM to 6:00 PM only.The waves in Pondicherry are known to rougher than usual and the slope gradient is also quite high. So safety is indeed an issue especially when it gets dark.
However, with a few precautions, this is a beautiful stretch of beach area and makes for some wonderful photo opportunities. Given the fact that the entry to this part of the beach is through resorts only, the number of people will also be lesser than your usual beach and hence the chances of disturbances are significantly lower!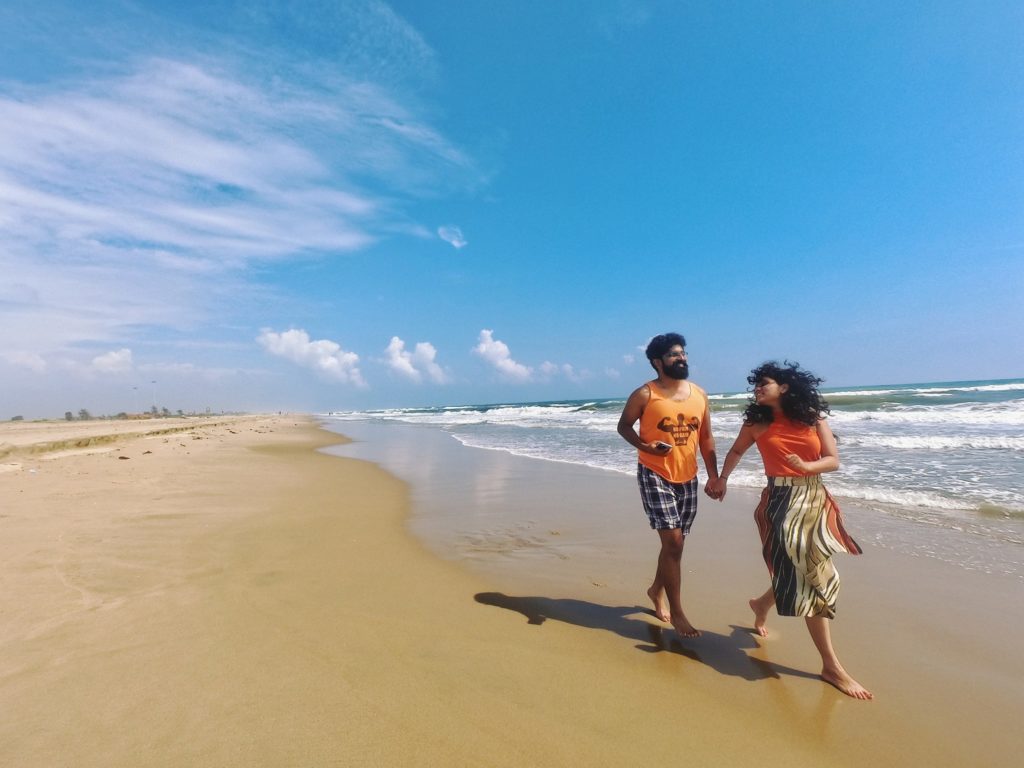 After spending about 2 hours on the beach, we headed back to the room to freshen up and check out Auroville. However, similar to the previous day, rain gods had a different plan and by the time we reached our room, it had started raining again and we then changed our plans from Auroville to enjoying the Private Pool in our room at RKN Beach Resort! Yes, you read that right. This resort has a few rooms that come with a private pool!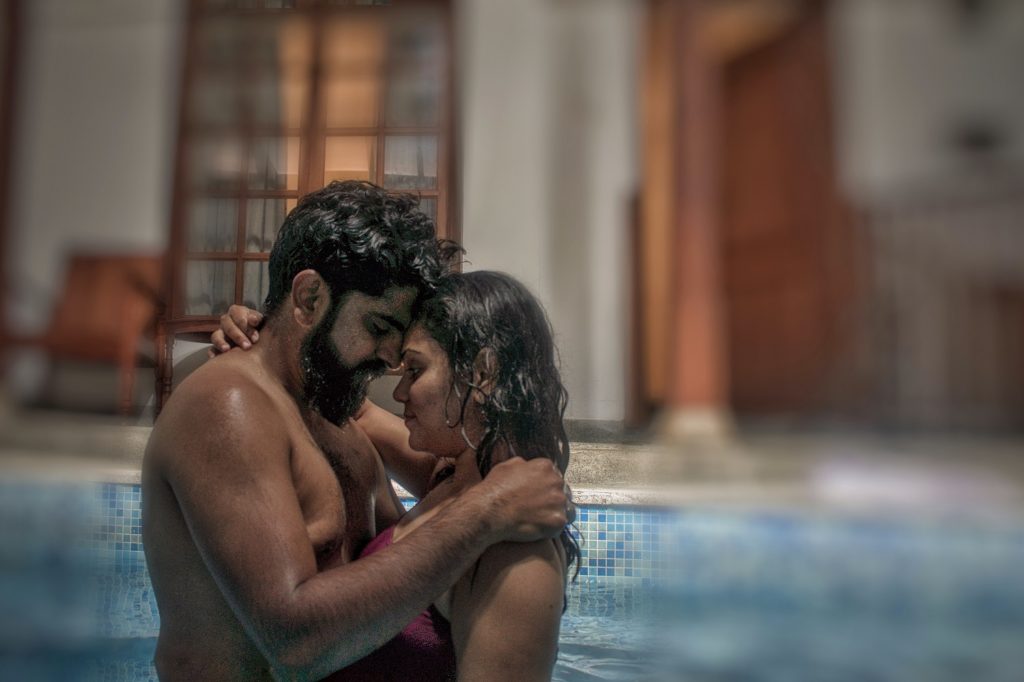 Evening @ Rock Beach
In the evening, once it stopped raining, we headed towards Rock Beach, a sea facing front that is probably the most popular areas in Pondicherry (expect a lot of people there). It was a short 25 min ride from RKN Beach resort. Parking, however, will be an issue here. there are a few dedicated lanes for parking, which get filled up real quick you'll mst probably have to find parking in one of the parallel lanes. In a way that was a good thing as we could click some pictures before it started getting dark!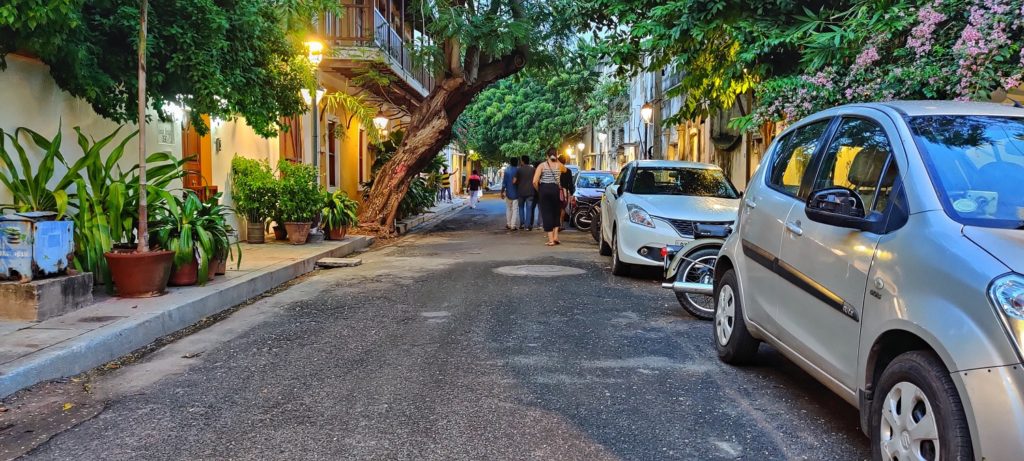 After clicking a few photos, we started walking to the seaside promenade to enjoy some fantastic views! Take a look at the pictures below to know why Rock Beach is called "Rock" Beach! While it sure was a great place to click some beautiful photos, entering the water was a big NO. There are a few spots where it is actually a beach; i.e. sand and water. However, the waves are incredibly rough and it's a steep decline. So the most people were doing was to get their feet wet!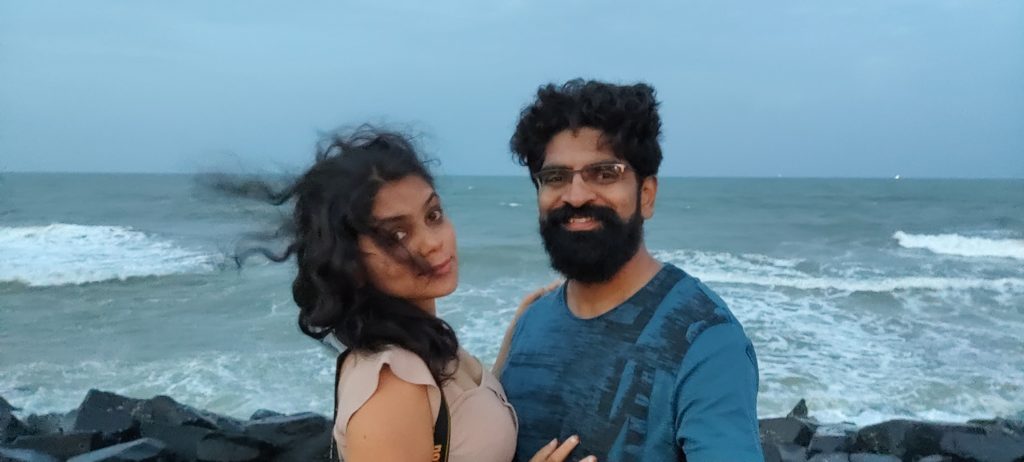 Cafe's @ White Town (French Colony)
Pondicherry's White Town has a multitude of cozy cafes where one can enjoy some delicious french inspired cuisines. However, if you're visiting on a weekend, make sure that you have a reservation as these cafes are extremely popular and will be completely booked. We did that mistake of not reserving, which meant that we couldn't enjoy the top cafes. However, we found a place right on the beach road that served some delicious chocolate waffles and we sure weren't gonna miss those!
Day 3 – Rock Beach, Auroville and Ride to Bangalore
Sunrise at RKN's Beach
Having missed out the sunrise the previous day, we planned to wake up by 5:30 so that we could at the beach area by 6:00 or latest by 6:15 AM. Thankfully, we weren't late this time. We reached the beach bang on time. However, nature had other plans. The sky was extremely cloudy and we had no chance of witnessing the beautiful sunrise on India's eastern coast yet! We however, had the opportunity to click some wonderful photos, before heading back to the room to check out, hit Auroville and then ride to Bangalore.
Auroville
Our initial plan was to visit Auroville on Day 2 and to visit Mahabalipuram on Day 3 before riding abck to Bangalore. However, we had to skip Mahabalipuram because we couldn't visit Auroville on Day 2. After checking out of the hotel, we hit the highway (NH 32) to Auroville and reached there in about 45 minutes. The road was good for most parts and on the highway. Now, since Auroville is in Tamil Nadu (not Pondicherry), there could be police checking for illegal smuggling of alcohol, at the border. So stay safe. Don't try to sneak any out. Rather, enjoy your ride/drive without the need to worry about such checks!
Auroville is essentially an experimental township where people from across the world of all cultures and traditions come and live together in peace. It is indeed beautiful to visit a place where people with diverse backgrounds and cultures live together on the principles of peace, harmony and sustainable living. As a visitor, one of the most popular places of interest is the MatriMandir. While it does have "Mandir' in its name, it isn't a temple but it is a place for individual silent concentration.
There is a viewing point which is essentially a raised garden area which offers visitors a beautiful view of the Matrimandir and its surroundings. Entry to this viewing point is free f charge. However, a pass as to collected in person and this is available from 9.00 AM – 4.00 PM Mondays to Saturdays and 9.00 AM – 1:00 PM on Sundays. If you plan to visit this place, get ready to walk a bit. The visitor center, where you collect the passes, is about 200 to 300 mts from the parking area and the viewing point is about 1 km from the visiting center. We made the mistake of carrying our riding jackets (that are filled with various protectors) instead of leaving them on the bike and hence found this a little tiring. However, being just over a kilometer, it surely isn't that tiring. There is also a shuttle bus that you can make use of for the return journey.
Once you reach the viewing point, you'll forget everything about the hike as the matrimandir will take your breath away!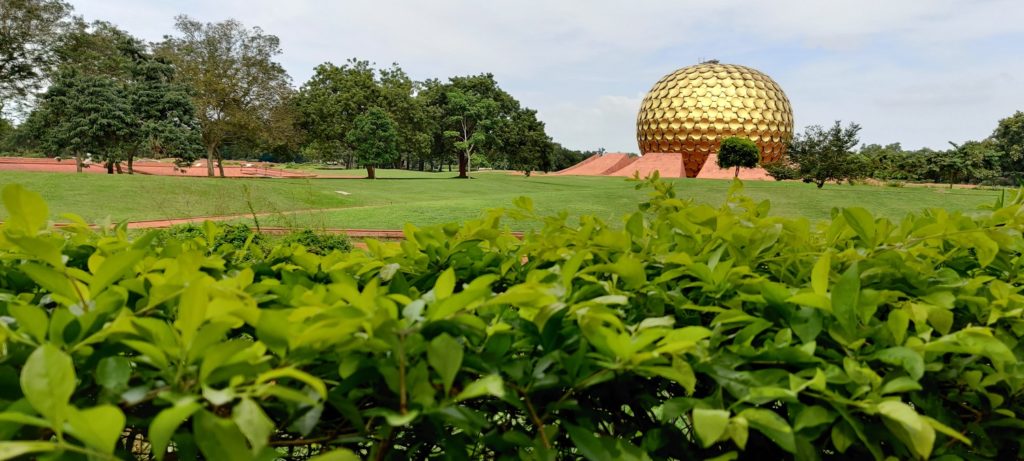 Having said that, we didn't find the rest of Auroville that appealing. It sure is wonderful how harmony exists with such diversity but as a visitor or a tourist, this place doesn't have much else to offer.
A please coincidental surprise was that we ran in a friend of ours in Pondicherry and it so happened that the last time we were in Pondicherry it was with them! Now that is some co-incidence!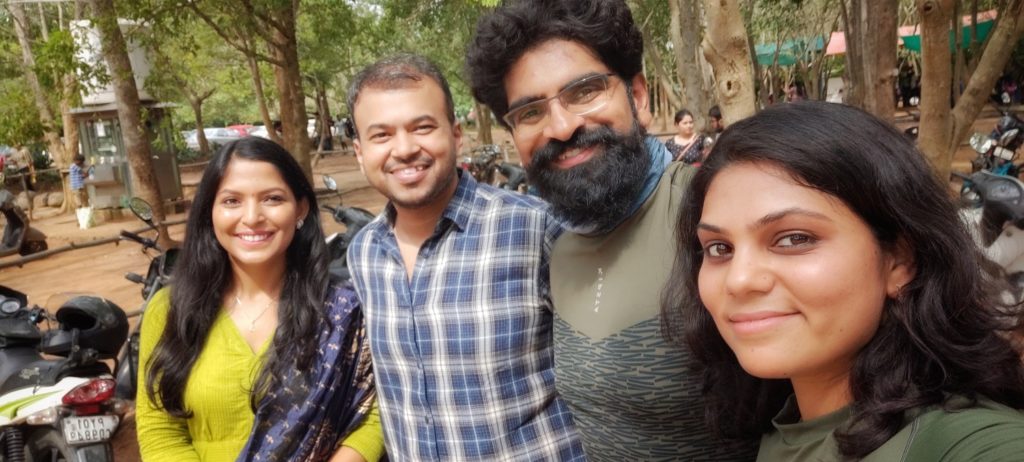 Ride to Bangalore
By the time we were done with Auroville and were ready to start riding, it was already 1:30 PM. We had planned to started from Auroville by 12:30 PM but got delayed a bit. However, since we had a heave breakfast, we decided to skip lunch and hit the road with the plan to reach the highway before it gets dark and the road starts getting filled with people showing of their high beams!
Fortunately, Google Maps guided us through a route that passed through many small towns without bypassing them to avoid the under construction roads near Chittoor. This meant that the road was quite scenic with paddy fields for company for most parts. We passed through towns such as Chetpet, Arni, Palamaneru before hitting the white topped highway.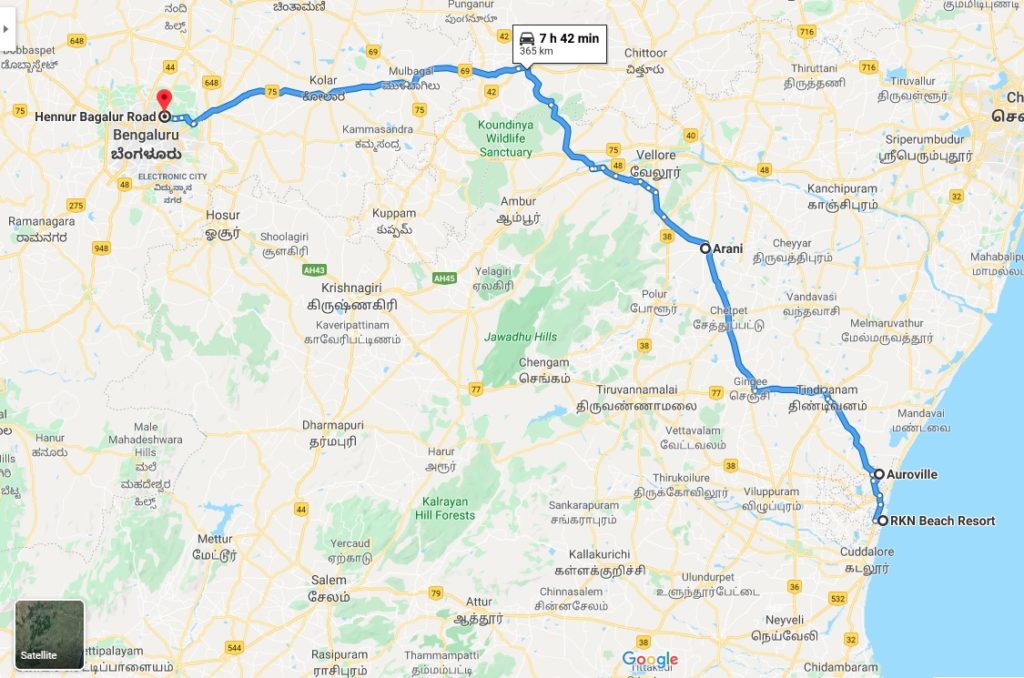 Only when we reached this highway did we realize that we were kinda hungry! We made a quick dinner stop at Cafe Coffee Day near Kolar (bang opposite the place where we had breakfast on day 1), had a couple of sandwiches, coffee and hot chocolate before riding to home again! It was about 9:30 PM when we reached home after enjoying a nice weekend at Pondicherry!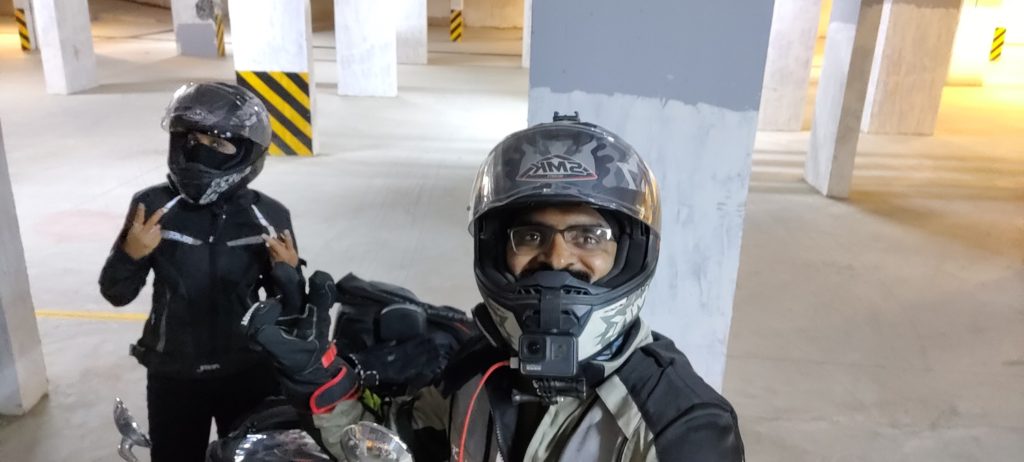 Best Time to Visit
Based on our interaction with the locals, October to March would be the ideal time to visit Pondicherry as the temperature usually ranges between 15 – 30 degree Celsius. Summer in Pondicherry will surely be hot. Given that both of us love monsoons, we'd surely recommend that season as well if you don't mind getting drenched in the rain. While December wasn't monsoons, it did rain a bit when we were there. However, as both of us had a mild cold, we chose not to dance in the rain! In any case, Pondicherry is surely a wonderful place to visit on India's eastern coast to enjoy a relaxed holiday.
Happy Riding!
Jaunting Duo