When it comes to riding, the most important investment, after the motorcycle of-course, is in the riding gear, such as Jackets, Gloves, Pants and Boots! A complete riding gear will act as your primary level of protection against serious injuries in case of a fall. Also, if you say that riding gear is too hot to wear, remember — it is always better to have sweat on yourself than blood.
In today's post, I'll be talking about the Full Gauntlet Gloves by Biking Brotherhood Gears, something that I've been using for a while now for daily rides to office and was especially used in the 9-day ride from Bengaluru to Kerala and back covering a total distance of 1775 kms.
Read our other product reviews here!
Introduction
BBG's full gauntlet gloves is one of the excellent gloves available in the market in its price range. It comes with
Premium grade leather construction is durable and offers excellent abrasion resistance.
Carbolex protector on palm.
Carbon knuckle Protectors
Carbon protection on fingers
Ergonomically positioned Silicone reinforcement on Palms for extra protection & gripping.
Inner play boy lining
Double Velcro cuff closure with shock absorbing Carbon padding in the wrist area.
Extra grippy protection on palm and little finger
Pre-shaped, anatomical finger design and internal seams for comfort and exceptional feel.
Dedicated Carbon protection on Wrist areas Impact zones for complete safety offering Race Specs.
On paper, these specifications look and sound impressive. In this article, we'll check on how it fares in the real world.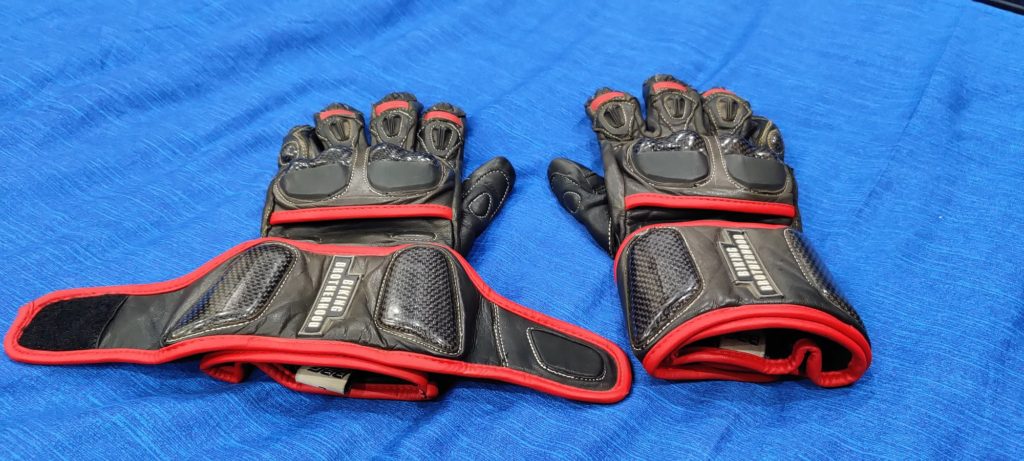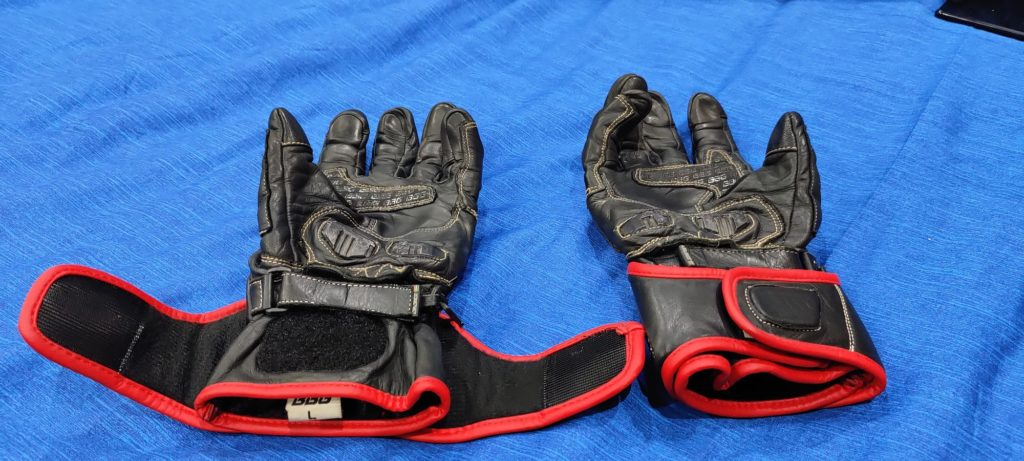 Build Quality of Gloves
One of the first things that we observe with most items, not just gloves, is the build quality or essentially how well was they are made; do they look like they'll survive harsh usage (and a crash for that matter)?!
The moment you put of these gloves you get a feeling that they have used premium grade leather and the level of protection offered by them appear to be good enough. These gloves come with pre-curved fingers which makes the riding all the more easier.
The tags that came with the gloves mentioned that Schoeller® Keprotec was used, which is one of the good fabric available in the market. Its basic properties include:
highest protective properties
extremely abrasion proof and fall proof
tear resistant
temperature resistant
high level of comfort
Protection
Unlike the Viaterra Grid or TBG Sport or Rynox Apex EVO, the BBG Full Gauntlet Gloves do NOT come with Knox SPS protection on the palm. However, these gloves have Carbolex protectors on the palms along with silicone reinforcement on palms, which meant that I didn't really miss the Knox SPS.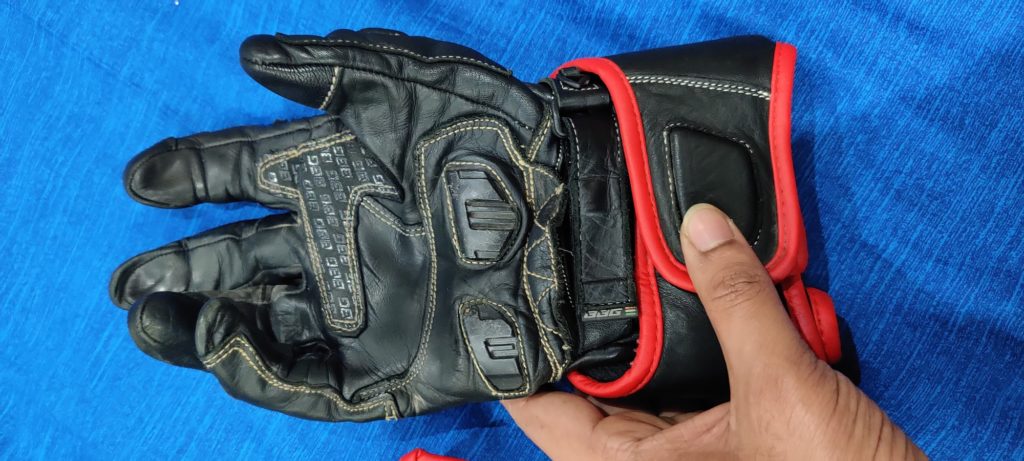 In additional to these, the gloves come with carbon knuckle protectors, carbon padding in the wrist area and carbon protection for the fingers and all of these seem like they would surely save your hands in case of a fall!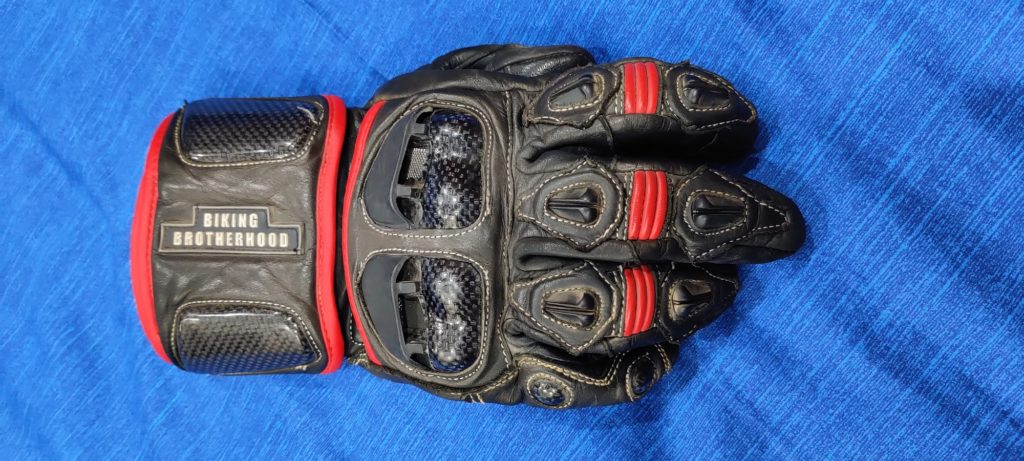 Overall, these gloves provide ample protection and score decently well in this department.
Ventilation
These gloves are not your winter/waterproof gloves, and this means that the gloves come with mesh ventilation just above the carbon knuckle protector. I've used this gloves in all kinds of weathers (Sunny, hot, cloudy, windy, and rains as well) and they fare well in most weathers, except for heavy or continuous rains, which is when your hand will be soaking wet. (BBG has their own set of Winter/Waterproof gloves, which we haven't tried yet.)
Glove Fit and Break-in
Since the gloves come with pre-curved finger, the movement especially while riding feel great. Surprisingly, it did not take much time to break-in for me (this however might be different for others). As I recall, I started feeling comfortable with these gloves after using them for about 2 weeks. Furthermore, even though the stitches are on the inside, I never faced any issues (or pain) while riding, which is surely a good sign that some thought has gone into designing these gloves for better comfort!
These gloves come with double Velcro straps and has a smaller Velcro strap under the lip of the glove, all of which make sure that the glove is in place all the time. There is also ample space to tuck in your jacket sleeves before locking in the Velcro straps!
The overall fit feels perfect and these gloves offer a snug fit that is comfortable for long distance touring. Just make sure that you do not use them when they are wet.
What's Missing
As with everything in the world, nothing is perfect! Everything (and one) has its own set of flaws and it all comes down to whether these flaws are worth compromising on.
I can think to two things that could be better with these Full Gauntlet Gloves:
Missing Knox SPS
Missing Pinky finger bridge to avoid finger roll in case of a crash.
Though to be entirely honest, I'm not a big fan of the finger bridge and find that a tad bit uncomfortable while riding!
Final Verdict
At INR 4,000, these are some really good Full Gauntlet Gloves with ample protection all around. Those who would prefer having Knox SPS, might have to shell out an additional thousand rupees for a Viaterra Grid or TBG Sport (Not sure why but at the time of writing this review, the Rynox Apex EVO is not listed on their website!). However, if your budget is around INR 4,000, then these are surely an option to consider!
Happy Riding and ATGATT!