When it comes to riding, the most important investment, after the motorcycle of-course, is on the riding gear! A complete riding gear will act as your primary level of protection against serious injuries in case of a fall. Also, if you say that riding gear is too hot to wear, remember — it is always better to have sweat on yourself than blood.
Irrespective of whether there are laws/rules that make it mandatory to wear a helmet, putting on a lid while riding is of utmost importance. In today's post, I'll be talking about SMK's Twister, a helmet that I've been using for a while now for my daily rides to work and was especially used in the 9-day ride from Bengaluru to Kerala and back covering a total distance of 1775 kms.
Introduction
SMK Twister is one of the most popular helmets by available that is under INR 5000 and with an ECE certification. It's got a plethora of features that make this affordable helmet a great choice for those looking for a new helmet!
The features include:
Bluetooth Ready
Breath Deflector
Breathable Liner
Channeled Exhausts
Chin Air Vents
Dual Visor System
Wind Protector
Hot Air Exhaust
Hypoallergenic Liner
Neck Roll
Pinlock Anti-fog
Quick Release Strap
Quick Release Visor
Reinforced Strap
Removable Washable Liner
Scratch Resistant Visor
Top Air Vents
Uv Resistant Visor
Antistatic Moisture Controlled Fabric
On paper, these specifications look and sound impressive. In this article, we'll check on how it fares in the real world.
Fit
When you first try out the helmet, you'll notice that the helmet doesn't slide in easily, which should be the case with any new helmet that is of the right size. A little nudge and the helmet slides on to a snug fit and doesn't move around much. The cheek pads do settle firmly on the cheeks and give you a feeling that this helmet will stay put (assuming that you'll lock in the strap) in case of a fall.
Another important point is that this helmet comes with an inner sun visor, which is very useful in sunny conditions, with the additional good news being that it doesn't interfere with the spectacles, in case you're using one! I wear spectacles and have been using this helmet and can personally vouch for that statement! The sun visor is smoky in color and not completely black which is a good thing because it doesn't affect visibility!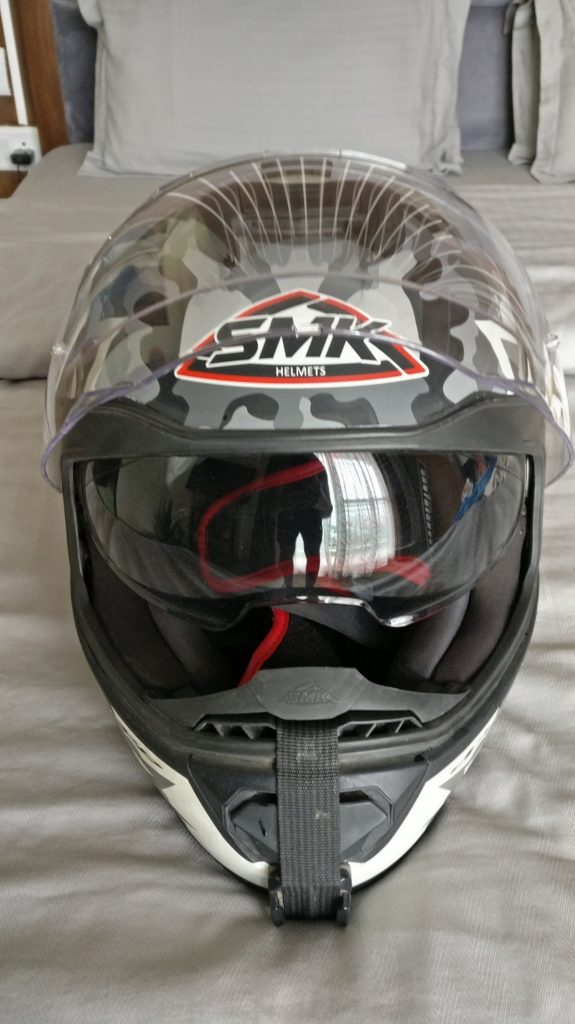 Ventilation
The helmet has vents in three locations, the chin area, the top and the rear area. We've used this helmet in a variety of conditions, sunny, cloudy, rain and windy and in all the situations, the ventilation was never an issue whatsoever! The padding of the helmet felt comfortable and doesn't cause any irritation to the skin.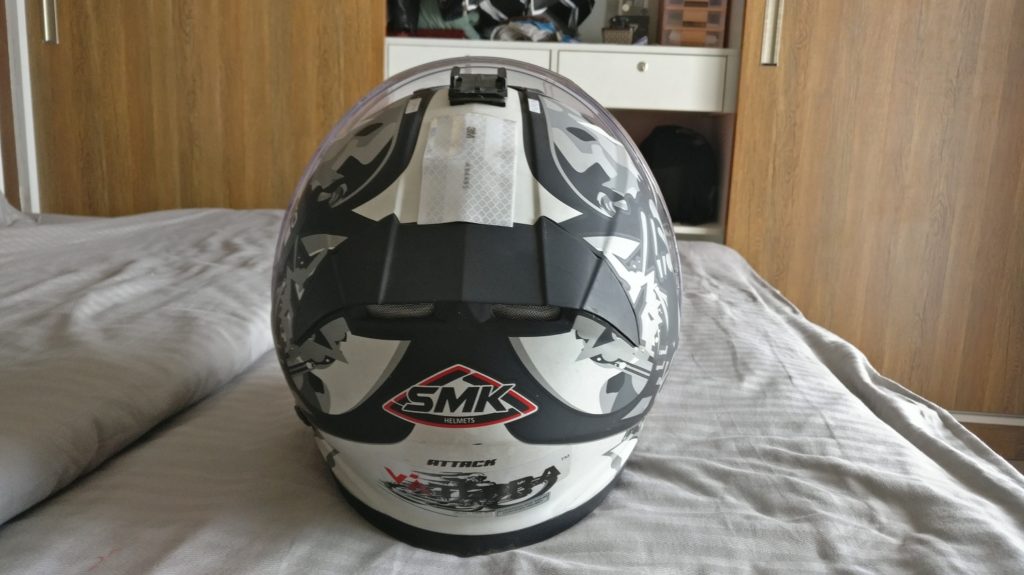 PinLock
One very good feature by SMK is that its helmets come pre-fitted with PinLock 30 anti-fog lenses. This is a brilliant add-on to have for your helmet which prevent them from fogging up in cold weather or in rains, making your ride all the more safer. You'll also have the option to upgrade to PinLock70 max Vision if necessary. I use this for longer rides and the PinLock30 for the city rides.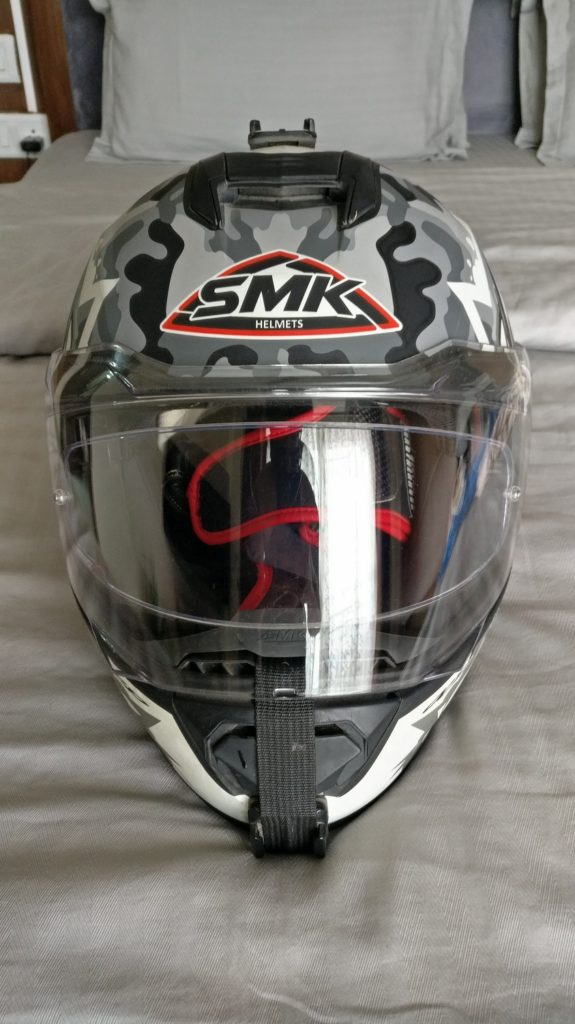 Note: PinLock70 lens will need the PinLock70 ready visor which needs to be purchased separately.
Liners
The inner liners and completely removable and washable. Again, we can vouch for the same because that is what we did as soon as we were done with our Kerala ride. Removing the liners and placing them back is extremely easy.
Note: We'd recommend that you first remove the visor and place it aside safely before removing the liners to ensure that the visor doesn't get scratched!
Wind Noise
This is probably one aspect where SMK could've been better, although it is not entirely bad. With the visor closed, the wind noise starts creeping in at around 60 kmph mark and gradually increases. But it is not something that bothered us while riding. We were constantly cruising at around 90-95 kmph on the NH 44 (we've got a classic 350) and didn't face any troubles as such. Not a fan of riding with the visor open.
Vlogging Setup
While not a ready-made option, the SMK twister can be fixed with a Vlogging setup with ease. All that I've needed were:
The Action Camera (we've used the GoPro Hero7 Black)
The curved mount with the 3M adhesive (preferably separate)
The J mount, and a couple of short links
M-seal
Sandpaper or scissors
The ideal place to mount the GoPro would be the chin area and since the curve on the chin area isn't exactly the same the curve on the mount, what I did was to use the M-seal to make it take the shape of the helmet and then use the 3M Adhesive in top on the M-seal and stick it to the helmet. This has worked pretty well.
There are many videos with various other ways to mount it and it is not a hassle at all!
Communication
Vlogging
For those who're into vlogging, it might always be a good idea to have an additional microphone that you can speak into. While the voice with the helmet itself is not that bad, tested using a GoPro Hero7 Black, moto Vloggers would surely need the additional mic for added clarity.
Pillion Communication
This is a tricky part, especially so if you ride with the visor closed. Though, this in no way a con for the helmet and in-fact this is how a helmet should be designed. For people who drive with a pillion (r in groups), we'd recommend purchasing a Bluetooth intercom set. The helmet comes with dedicated slots for the speakers.
Calls
If you're not interested in purchasing a Bluetooth set that looks like an additional device attached to your helmet, you could consider SMK's Bluetooth set. The drawback here is that it doesn't have an intercom facility. Utility wise, we'd recommend going with the third-party intercoms (such as Sena). We initially purchased the SMK's set for one helmet and are now moving to a third-party intercom.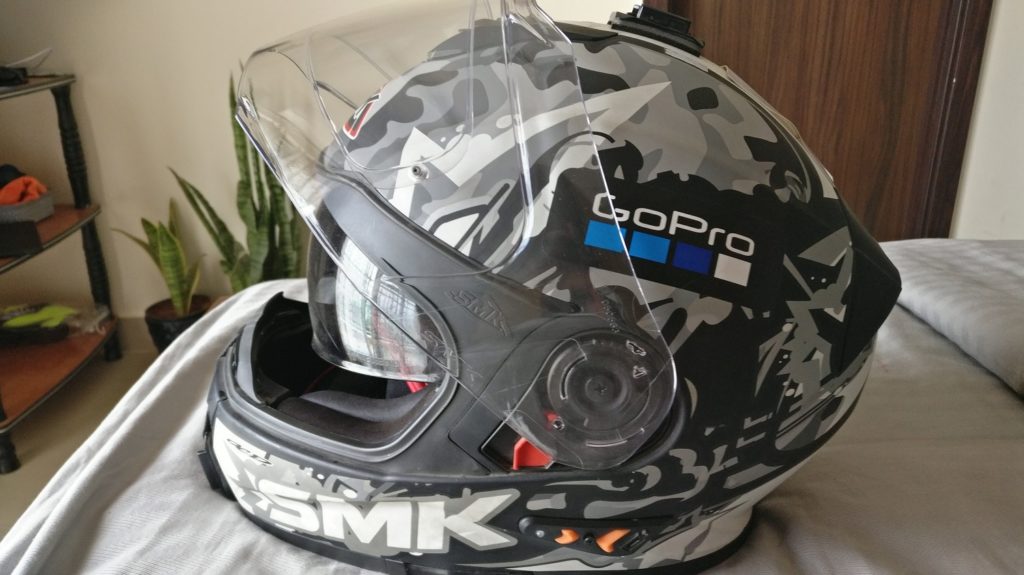 Weight
At 1450 gms this is one of the standard weight helmets in the market. It is quite comfortable to wear and doesn't feel tiring. It is quite easy to carry around as well. I generally close the visor and store my gloves and the head gear in it, lock the straps and use that to carry around the helmet. Pretty comfortable.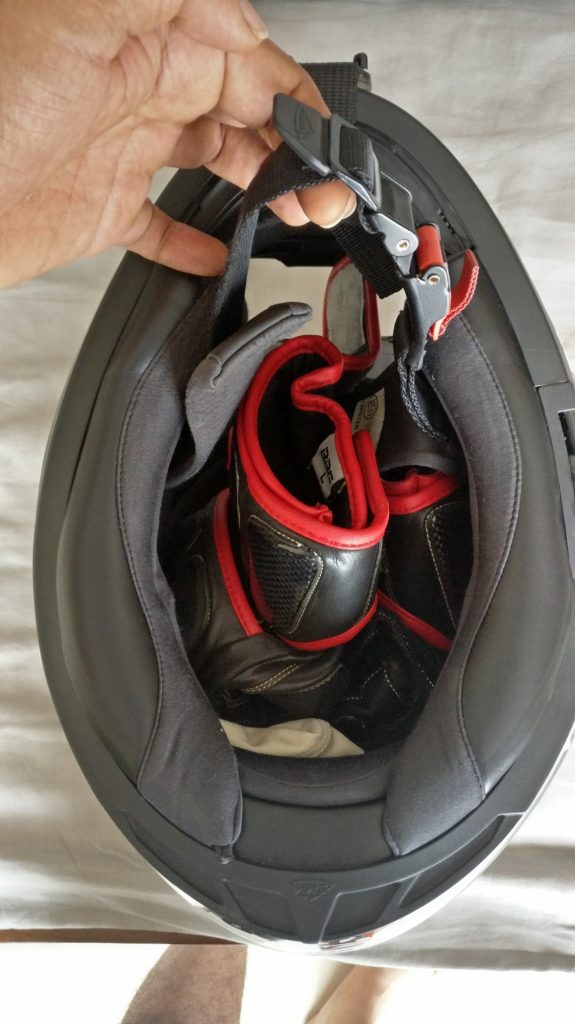 What's Missing
As with everything in the world, nothing is perfect! Everything (and one) has its own set of flaws and it all comes down to whether these flaws are worth compromising on.
The SMK Twister does have it's own share of cons but in our opinion, these do not hurt their chances much, especially when it comes to everyday use or regular touring purposes.
Strap Locking – No Double D Ring
The double D ring locking mechanism is considered one of the safest locking mechanisms around and is used in races all across the world to keep the user safe. It sure is a good feature to have but is not something that's a deal breaker. When the right size of helmet is chosen, you'll notice the fit is snug and it takes some effort to actually take the helmet off. Add the push insert locking mechanism, should be sufficient to stop this helmet from coming off in the event of a fall/crash.
Certifications
The SMK Twister comes with just the ECE certification and isn't DOT or SNELL or SHARP or ISI certified. However, the ECE indeed one of the best there is in terms of helmet certifications. In-fact it is considered to be the European version of the DOT standard with much more rigorous tests than DOT. Again, not a deal breaker for me but might be for someone who might be picky!
Helmet Bluetooth Device
At INR 4,000 per piece, it would've been better if SMK's Bluetooth device comes with the intercom facility. We initially thought that we might not need the intercom facility, but after a couple of short trips, realized that intercom is indeed a useful facility to have if you're riding in a group or with a pillion. This by itself is not a con with the Helmet but with the helmet accessory!
Final Verdict
The Twister by SMK turned out to be a great investment and suits our riding needs very well. It is surely one of the really good ones in the market at this price range, especially factoring in that it comes with an ECE certification, a sun visor and is Bluetooth ready. It doesn't have other certifications such as DOT or SNELL or SHARP. However, ECE certification is indeed world class and this should be more than enough for tourers!
Happy Riding and ATGATT!