When it comes to riding, the most important investment, after the motorcycle of-course, is in the riding gear, such as Jackets, Gloves, Pants and Boots! A complete riding gear will act as your primary level of protection against serious injuries in case of a fall. Also, if you say that riding gear is too hot to wear, remember — it is always better to have sweat on yourself than blood.
In today's post, I'll be talking about the Furious V2.0 all-purpose touring jacket by Solace Gears, something that I've been using for a while now and was especially used in the 9-day ride from Bengaluru to Kerala and back covering a total distance of 1775 kms.
Read our other product reviews here!
Introduction
Solace's Furious V2.0 is one of the best all-purpose touring jackets available in the market in its price range. It comes with
High Density polyester 700Dshell with 1000D Invista Cordura for elbows
Silver color heavy duty 3D Mesh ventilation areas on chest and entire back panel, neon hi-vis mesh for arm vents.
Accordion stretch panels on elbows and shoulders.
SAS-TEC Level 2 Protectors on Shoulders, Elbows and Back and SAS-TEC Level 1 Protectors for the Chest
Zip-down ventilation in the front, back and on the arms.
Convenient storage options with two front cargo style pockets
Two waterproof zipper pockets on chest with high vis zippers.
One large rear utility pocket to store the rain liner
One internal waterproof zipper pocket.
Removable and interchangeable waterproof full liner with taped seams to ensure long-term water-repelling performance. Can be worn as standalone jacket. Dual colored in neon and black for high visibility on dull rainy days.
Long sleeve thermal jacket with zipper pocket on front. Can be worn inside the jacket or used as a normal jacket, Filled with 100g Dacron Filling.
On paper, these specifications look and sound impressive. In this article, we'll check on how it fares in the real world.
Build Quality of Jacket
One of the first things that we observe with most items, not just jackets, is the build quality or essentially how well was the jacket made; does it look like it'll survive harsh usage (and a crash for that matter)?!
With the Furious V2.0, you get the feeling that it is made to last. The specifications say that it is made up of "High Density polyester 700Dshell with 1000D Invista Cordura for elbows" and just as fancy as it sounds, it sure does give you the feel that it'll live up to its name! To put in one word, the jacket feels solid!
First time users of riding/armored jackets will feel that this is something that is heavier than what you're generally used to. However, a couple of rides in, you'll get completely used to it and that short duration of uncomfortable feeling is surely worth the level of protection that you get!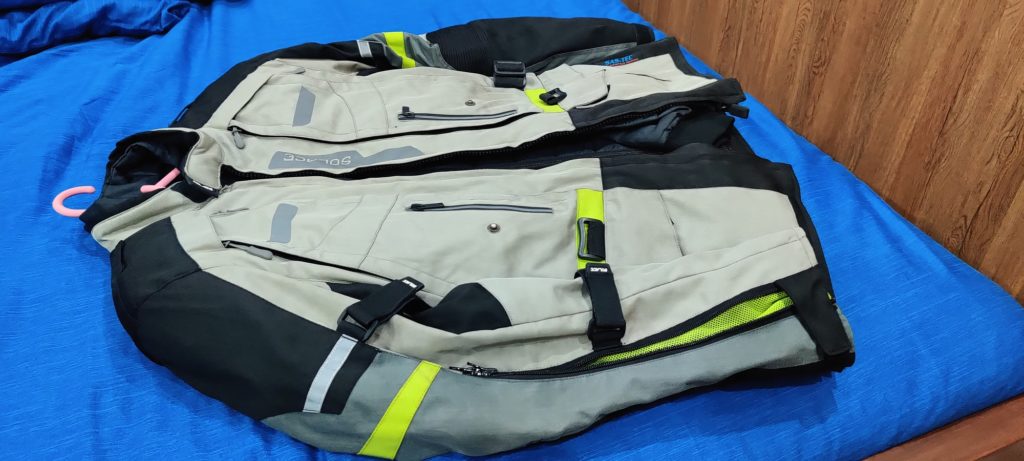 Jacket Protection
The Furious Touring jackets come with SAS-TEC protectors, which are made of Viscoelastic foam with memory effect and outstanding shock absorption values. After an impact or any kind of deformation the foam (protector) returns to its original shape within shortly. The air which is embedded in the foam's cells provoke a progressive absorption. The protector remains soft in case of slowly increasing forces, however when it comes to a fast and heavy impact the resistance of the foam grows with increasing speed. All except chest protectors are CE Level 2 with the chest being Level 1.
To put it in simple words, the protectors remain soft till the time of impact which is when it hardens and saves one from injuries. The one primary advantage I felt with these protectors is that the jacket feels considerably lighter as compared to the other jackets that I've tried, which directly leads to increased comfort levels!
Ventilation
Being an all-weather touring jacket, it becomes imperative that we should be able to use this jacket in both hot and cold weathers! And the primary way to make a jacket bearable in the hot weather (or summer) is with ventilation.
The Furious V2 comes with Zip-down ventilation system on both sides of the chest and the back and long length twin-zipper, 3D neon mesh backed vents on sleeves. I've personally used this while riding in Bengaluru city as well as extensively in our 9 days Kerala ride (which covered various riding conditions such as hot and humid in Kochi, Cold in Kodaikanal, Rains in Munnar and Neutral in Wayanad) and I found this to be quite comfortable in all. Never felt the need to take the jacket off, except while hiking or trekking, which is, of course, not the time to be wearing a riding jacket!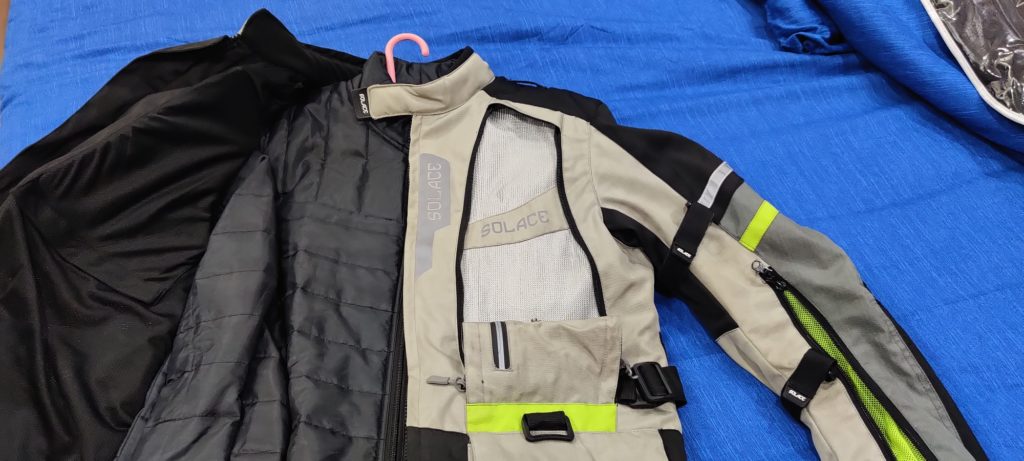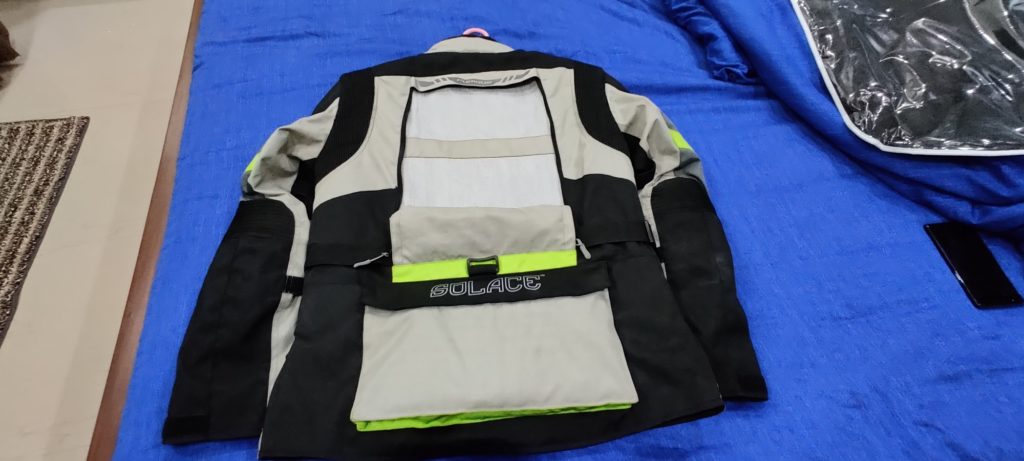 Jacket Liners
The jacket comes with an internal thermal liner, which can be used as a standalone winter jacket and an external high visibility rain liner. I haven't yet used the thermal liner while riding but did use it to walk around in Kodaikanal and it did manage to keep me warm. The external rain line, however, was extensively used, especially while riding from Vagamon to Munnar, for sightseeing in Munnar and while riding from Munnar to Kodaikanal and it does a great job of ensuring that your jacket and clothes inside and completely dry!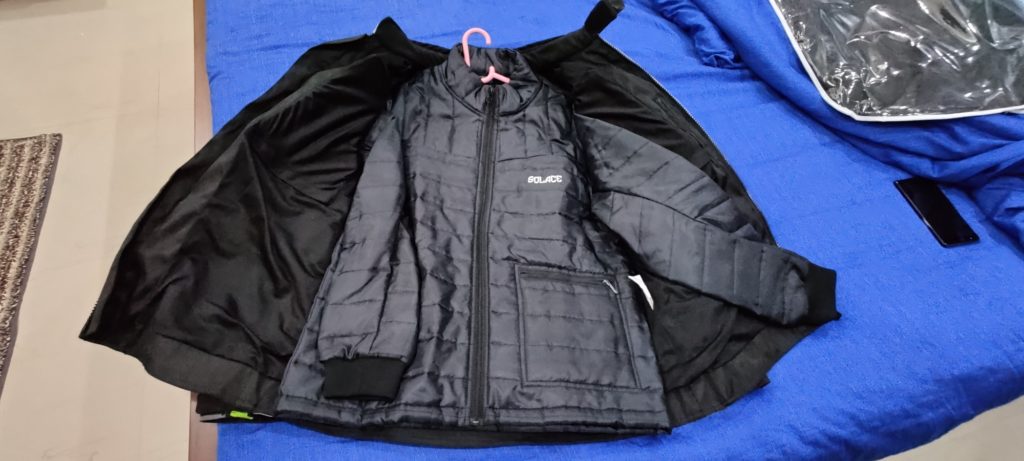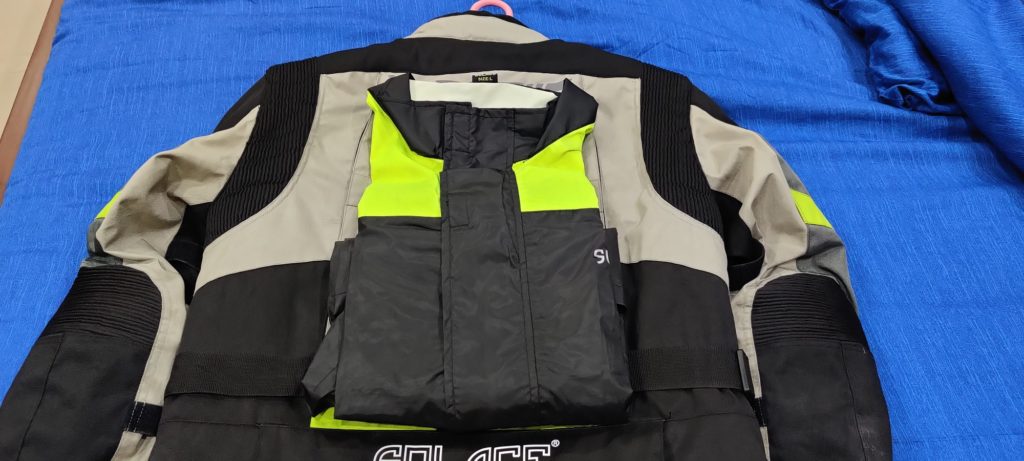 One important point to note that the rain liner is an external one, which is what I totally prefer (in-fact is a criteria that I use to filter out jackets), primarily because having an internal rain liner has two inherent disadvantages as far as I'm concerned:
The internal rain liner keeps the clothes from getting wet, but the jacket is still exposed to rain and in case the rain stops but the jacket isn't dry yet, you'll have to continue wearing the internal rain liner (see point 2 for why this this bad)
An internal rain liner means that the ventilation (irrespective of how breathable they say it is), take a major hit! I feel like I'm burning up with the internal rain liner!
Visibility
The furious jacket comes with:
3M Reflective taping on biceps increases nighttime visibility.
Reflective printing done all over the jacket to enhance design and visibility.
Removable & Adjustable HI-VIZ reflective vest for maximum night visibility
And all these ensure that the rider remains visible throughout the ride irrespective of the situation. The external rain liner is dual colored in neon and black, which is surely needed to tackle the lower visibility during rains! I used the same during the heavy rains in Munnar and we continued riding without any issues as such!
Storage
The jacket comes with multiple storage option, some of which are waterproof by themselves, thereby protecting your valuable items/documents, in case you do not get enough time to slip on the waterproof liner!
With 2 cargo style front pockets, 2 waterproof zipper pockets on chest area, 1 large rear utility pocket to store the rain liner and 1 internal waterproof zipper pocket, there is hardly any dearth of storage options! Given the general duration of our trips, we carry most of the luggage in our saddle bags and hence do not completely use the storage option of the jacket but the cargo style pockets have been extremely useful to store my wallet and the power bank which was used to power the GoPro Hero7 Black.
Fit and Other Details
Fit details would generally be user specific and my feedback in this case cannot be generalized. However, the jacket, overall, fits me perfectly. There are two Velcro straps each on each arm to ensure that fit is correct and that the protectors stay in place. The sleeves' ventilation can be zipped up, folded and slid into your full gauntlet gloves. In addition to this, the waist area has an adjustable belt for customized fit and secure closure. There are accordion panels on elbows and shoulders for improved fit.
Overall, wearing this jacket and tightening the straps/belts as necessary, make this feel like a well-tailored jacket and not something generic which requires compromises in certain aspects (this point however is from my usage and may not be the same for others)!
Coming to the purchase aspect, I wouldn't recommend going with an online purchase right away. It would indeed be a good idea to visit the dealer and then try out the jacket prior to purchasing it!
What's Missing
As with everything in the world, nothing is perfect! Everything (and one) has its own set of flaws and it all comes down to whether these flaws are worth compromising on.
Where the Solace Furious V2 goes wrong is with fact that it's closest competitor comes with additional features at a very similar price point. However, these do not hurt their chances much, especially when it comes to everyday use or regular touring purposes.
High temperature impact test validation missing
The SAS-TEC protectors that come with the jacket do not have a T+ rating meaning that the impact test has not been validated for temperatures over 40 degree Celsius.
Missing Kidney Belt
Its closes competitor, the Rynox Stealth Evo, comes with a kidney belt that supports the lower back during long rides. We, however, tend to rely of dead-lifts and hyper-extensions to strengthen our lower back and hence was not a deal breaker for us!
Final Verdict
The Furious V2 by Solace Gears turned out to be a great jacket for our riding needs and is surely one of the really good ones in the market at this price range. It does face stiff competition from the Rynox Stealth Evo, another fantastic riding jacket, which comes with the kidney belt as well, which can be useful for people with lower back troubles. However, I opted for the Furious by Solace because of the excellent ventilation and the SAS-TEC protectors which made the jacket slightly lighter!
Happy Riding and ATGATT!