High Altitude lakes, one of the highest motorable lakes in the world, snow capped mountains all around you, random but spectacular waterfalls all along the road and beautiful valleys everywhere you see. This is what the beautiful state of Sikkim has to offer its visitors. Part of the Himalayas, the area has a dramatic landscape that includes India's highest mountain, 8,586m Kangchenjunga. Such sights can leave you spell bound and for those wishing to leave the monotonous city life behind, Sikkim is an amazing option to consider! Read on to know more about our experience in this gorgeous state of North Eastern India.
How It Began
Prior to planning this trip, we had plans of visiting a new country every year. However, one quick trip undertaken by our dad changed this though. The locations were so scenic that we decided to explore India before heading out on international trips. After reading up on Sikkim and the surrounding destinations, we decided to leave on a Saturday and return on the next Sunday (making this a 8 nights 9 days trip). Given a choice, we would've loved to stay for another week to explore more areas but we guess that's a feeling that we get with every place!
The Plan
Bengaluru to Bagdogra to Darjeeling – Day 1
Darjeeling to Ravangla – Day 3
Ravangla to Gangtok – Day 4
Gangtok to Lachen – Day 6
Lachen to Lachung – Day 7
Lachung to Gangtok – Day 8
Gangtok to Bagdogra to Bengaluru – Day 9
The days leading up to trip felt really really slow, as all we could think of was the trip and nothing else and as a result ended up checking the clock every now and then and counting down the days!
We ensured that we were fully packed and ready the previous night itself and that we get a good night's sleep on the night before. Turns out it doesn't quite work like that as excitement took over and ensured that we slept kinda late!
Day 1 – Bangalore to Bagdogra to Darjeeling
Our flight to Bagdogra was scheduled to depart by 10:05 AM and it took off as scheduled. The total flying time was around 2 hrs and 30 mins and we spent most of this time watching F.R.I.E.N.D.S on our Huawei Mediapad. As expected, we lost track of time and it felt like a short flight. We reached Bagdogra airport, collected our luggage and booked out cab to Darjeeling from the counter at the airport.
On the way to Darjeeling, we spoke to our cab driver and arranged for a trip to Mirik and Pashupati market before reaching Darjeeling. The ride to Mirik and Darjeeling was extremely scenic but unfortunately, it started rainign as we reached the Mirik lake. We waited for a while but to no avail. As such we proceeded towards Darjeeling with the next stop planned at Nepal's Pashupati Market.
After exploring the market by foot (and traveling by a Nepali car), we headed back to our cab and were on our way to Darjeeling. We reached our hotel in Darjeeling, Sinclairs Hotel, by late evening. By the time we reached the hotel, it was already dark and hence, couldn't really check out the views that night. More on this in Day 2!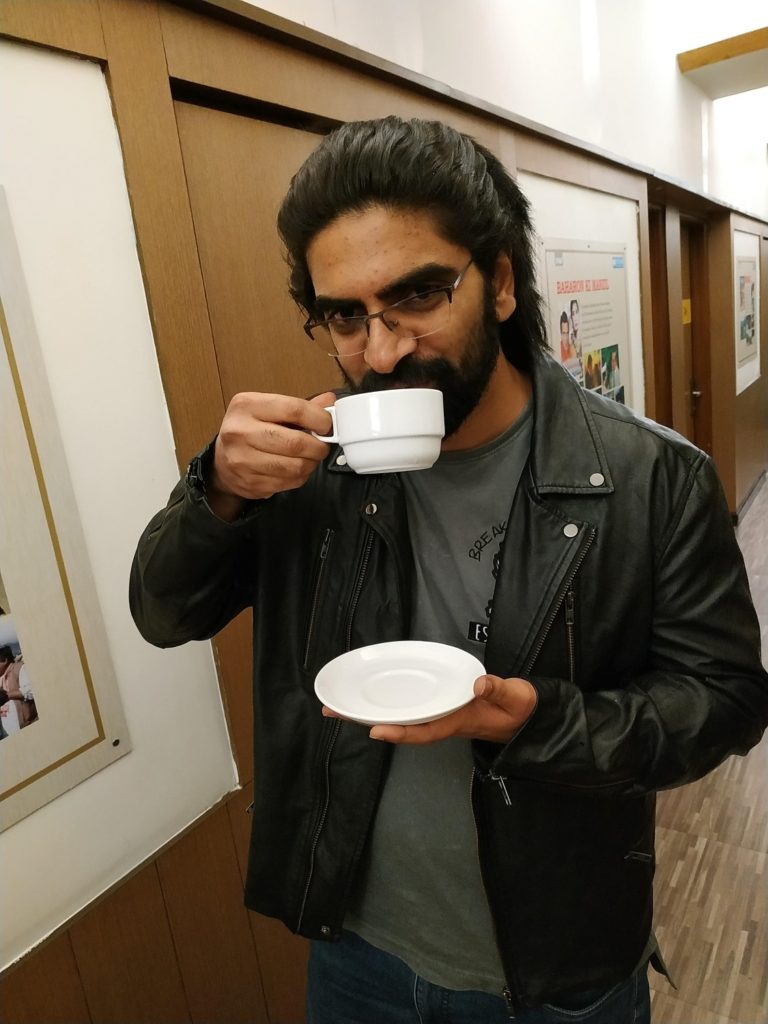 Day 2 – Exploring Darjeeling
We had made cab arrangements in Bangalore itself and coordinated with our driver about plan for today on the previous night itself. Given the cloudy weather it didn't make any sense to wake up early in the morning to go to Tiger Hill for the sunrise view of the Kanchenjunga. Therefore, we planned to start slightly late after enjoying a good and filling breakfast. Today, we covered Tiger Hill, Ghoom Monastery and Batasia Loop (part of the standard 3 point tour) and followed this up with a visit to Darjeeling Zoo, Happy Valley Tea Estate and the Japanese Temple & Peace Pagoda.
Read more about day 2 by following THIS LINK.
Day 3 – Darjeeling to Ravangla
After enjoying a sumptuous breakfast at Sinclairs, we checked out of the hotel and started driving to Ravangla. We had arranged for the cab the previous day itself and our driver was ready at the agreed upon time. The drive to Ravangla, which is in Sikkim was very scenic. With a quick photo stop at a tea garden, change of cars mid way and a visit to Buddha park of Ravangla, also known as Tathagata Tsal, we enjoyed a fantastic ride to our hotel, Barfung Retreat
Read more about day 3 by following THIS LINK.
Day 4 – Ravangla to Gangtok
Today was the day to ride to Sikkim's capital, Gangtok. We started the day with a fantastic breakfast at Barfung Retreat and started towards Gangtok. The first stop was at the Temi Tea Garden, which is apparently the only tea garden in all of Sikkim. This is one of the popular tourist destinations around Ravangla. The tea garden has a path for tourists to walk around and as you keep walking, you'll notice the endless tea plantations! We spent some time exploring the tea garden by foot. It was a tiring but a wonderful experience.
After this stop, we proceeded towards Gangtok and reached the hotel in about 3 hours time. We stayed at The Grand Silk Route (read our detailed review here and our TripAdvisor review here) and spent the rest of the day just exploring the surroundings by foot, before it started raining which is when we headed back to the hotel and ordered room service!
Day 5 – Tsomgo Lake and MG Marg
A number of places in Sikkim will require special permits to be obtained and one of the easiest way to get this done is to go via a tour operator. We did the same thing to visit Tsomgo Lake, a glacial lake situated about 40 kms from Gangtok and set at around 12,300 ft above MSL. After enjoying time in the snow, which included a number of attempts at photography and of course a lot of sliding in the snow, building a snowman and of-course snow fights. we headed back to Gangtok and explored MG Marg before heading back to the hotel to relax.
Read more about day 5 by following THIS LINK.
Day 6 – Gangtok to Lachen
We have been living in hill stations for the last 5 days! However, now is the time to start enjoying the high altitude life! Today we drive to Lachen. Lachen is a town in North Sikkim district in the Indian state of Sikkim. It is located at an elevation of approximately 9000 meters. The name Lachen means "big pass" is the place people rest at night before heading to the high altitude Gurudongmar Lake and Chopta Valley. Before embarking on this trip, we collected our permits from the office in Sikkim, again made easy as we went though a tour operator but were informed that the chances of visiting the lake were on the lower side due to the unfavorable weather!
We booked the Delight Lachen (read our detailed review here and our TripAdvisor review here) for our stay in the night and the views that we had from the room was mesmerizing! Also awhile all this while we thought we were living in cold weathers, this was something entirely new. It was freezing! Such an fun experience!
Day 7 & 8 – Gurudongmar lake, Lachung, Yumthang Valley and drive to Gangtok
Today was the day to visit the famed Gurudongmar lake and then head back to hotel to check out and then proceed to Lachung. For Gurudongmar lake, we had to be ready by 5:30 AM. While the distance is a mere 66 kms, it would take close to 3 hours for the ride because of both the winding roads and the bad conditions of the road. later we drive to Lachung and checked in to our hotel, Summit Alpine Resort (read our detailed review here and our TripAdvisor review here). Later in the evening we explored the surrounding areas by foot. The next day was to explore Zero Point and Yumthang Valley before heading back to Gangtok!
Read more about day 7 & 8 by following THIS LINK.
Day 9 – Gangtok to Bagdogra to Bangalore
We had earlier made arrangments to take the chopper from Gangtok to Bagdogra, operated by STDC. However, with the weather being cloudy, the chances of the chopper operating were not too high. Therefore, STDC we got in touch with STDC who arranged for a cab to Bagdogra airport. The chopper ride to Bagdogra airport would ahve been extremely scenic. While we missed those views, the cab ride was no less scenic! Our cab driver also made sure that we didn't miss our flight!
When we reached the airport, we noticed that the skies cleared up and the chopper had actually flown from Gangtok to Bagdogra. Given that the take off time for the chopper was quite close to flight's take off time, that wasn't a risk that we could take.
Of course, there were many places that we'd want to visit again but missing out on those places didn't matter much because what we saw themselves were extremely mesmerizing and stunning! And of course, we plan to visit Sikkim again this time on our Royal Enfield! Until next time!
Happy Riding!
The RE Travelers!