How many time can one say that they've stayed at a property for just INR 3200 (about $45) and have experienced luxury! Welcome to Radisson Salem, in the South Indian state of Tamil Nadu. Salem, initially, was not a stop that we had planned and the idea was to ride to Bangalore from Kodaikanal. However, muliple factors, including not being happy with the hotel in Kodaikanal, predictions of heavy downpour on the way to Bangalore, Kodaikanal being a very touristy place and the fact that we wanted to celebrate our 2 year anniversary by pampering ourselves, made us change our mind and that's how we landed up in Radissom Salem. Read on to know more about our experience!
Location
Situated bang on the NH 44 which starts about 100 od kms from Kodaikanal on the way to Bangalore (and is also the longest running North to South highway in India, connecting Srinagar to Kanyakumari), Radisson Salem is easy to locate and is in a convenient location for travelers! This is also an ideal base for visiting the Tamil Nadu region's many temples and natural attractions, including Panamarathupatti Lake and the Yercaud Hills.
About the Property
As expected with most Radisson properties, the hotel is spread across a vast area and is not just the hotel building by itself. The first thing that you notice as soon as you enter is that vast amount of parking that is available (of course THE first thing would be the Radisson logo that is visible well before entering the hotel grounds!). There is a ramp that leads up to the entrance of the hotel building which also houses a place for vehicles to stop and rop off luggages, which is where we dismantles the saddle bags. It looked the this hotel doesn't see many bikers (as expected) and the staff seemed quite excited to see us!
The hotel comes with all the standard amenities/services that you'd associate with an upscale hotel chain like Radisson. So be sure that you'll have a swimming pool, 24 hr room service, spa, fitness centers, meeting facilities, complimentary wifi, complimentary coffee and tea and the likes!
Check-in:
The hotel's check-in time is 1200 hrs (12:00 PM). Given that we started from Kodaikanal at around 9:00 AM and the estimated riding time was around 4.5 to5 hours, we were set to reach by around 2:30 PM or 3:00 PM. Which meant that we didn't need an early check-in. However, the hotel's website talks about the possibility of an early check-in, which we believe should not be an issue. Indu got the paper work and document verification done while I was parking the bike and we soon settled in our room.
Room
We booked the Superior Room and this room came with a view of the hills that were behind the Radisson Salem. The room was extremely spacious with a king sized bed a couple of chairs, a table and of course the regulars such as TV, Minibar and complimentary coffee and tea.
The bed was extremely comfortable and the plush pillows made it perfect for a good night's sleep! I believe we overslept on purpose because the bed was comfortable (and also because the next day's ride was mainly on the NH 44 which was in excellent condition, which meant we could start kinda late!)
Bathroom
The bathroom was extremely clean and was of-course had separate wet and dry areas. It came loaded with all the amenities such as shampoo, shower gel, moisturizer, hair dryer, tissues, dental kit, shaving kit, vanity kit, comb., shaving mirror and much more! The shower area has a rain shower and a hand held shower to make you bathing time all the more relaxing! be careful though; you might spend a lot of time without knowing that you've been in for that long!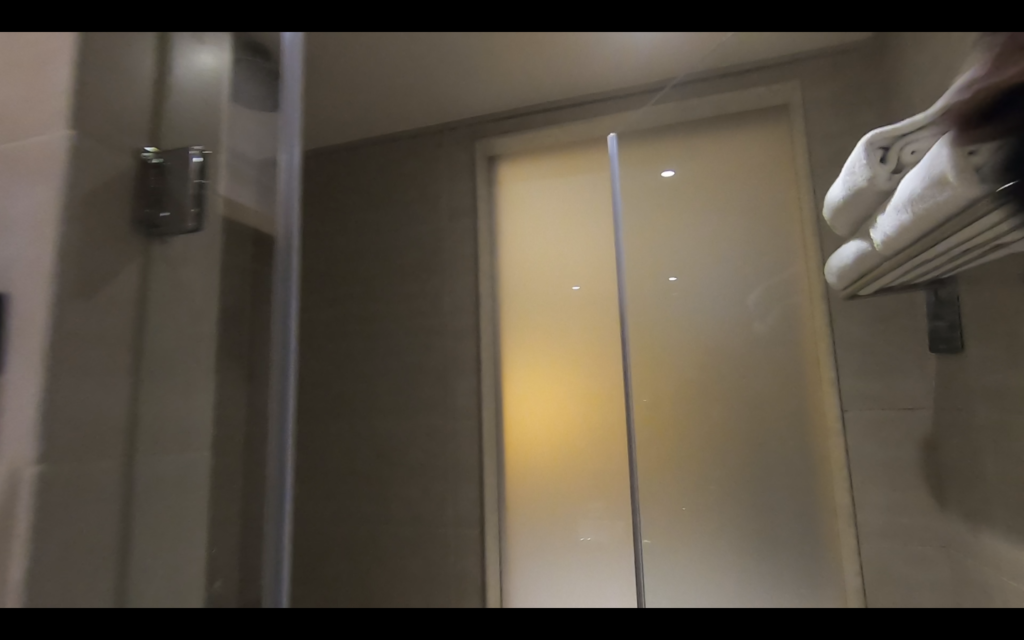 Food
While for lunch we ordered room service, which was undoubtedly yummy, what stood out was their Grills by the Promenade restaurant. The food was incredibly yummy and it would indeed be tough to pick a single favorite. Furthermore, the staff, on learning that it was our 2nd marriage anniversary, arranged for some surprise celebrations!
Check-out:
We called in from the room informing that we'd be checking out soon and they had the bill ready by the time we were in the reception. We had fixed our saddle bags in the morning prior to checking out (we prefer that way so that we get to spend some time in the air conditioning after working on fixing the saddle bags!).
This entire process of checking out took a couple of minutes and we were on our way to the next destination, Bangalore, soon!
Customer Service:
Exceptional. Everyone looked eager to help throughout our stay. The staff was very friendly and informative as well. One activity that is popular in Vagamon is their off-roading Jeep safari and you may speak to the staff to get this arranged with pick up and drop from the hotel itself. Very convenient!
Final Verdict & Ratings
Palette Hill View Resort is undoubtedly one of the best hotels to stay in, in Vagamon and with outstanding cleanliness, warm hospitality and superior service, you would surely feel like extending your stay here! With the expansions that they have planned and with a few minor tweaks regarding the power back up and hot water, this could easily turn into a favorite destination for tourists. We'll definitely stay here again!
Until next time!
The RE Travelers