Ranthambore Tiger Reserve: One of the 50 tiger reserves in India, offers you a wonderful chance to spot a tiger in its natural habitat. And clubbing it with a day trip to Jaipur, gives you a wonderful opportunity to visit palaces, forts and a jungle, all over an extended weekend. Which is precisely what we did over the last weekend (23-Feb-19 to 25-Feb-2019). This is our second safari experience after having been to Bandipur in September 2018. Check below for more details about our trip to Jaipur and Ranthambore.
Driving Tip: Ranthambore is about 150-180 kms from Jaipur and takes approximately 3 hours by car. You can easily rent a Zoomcar in Jaipur. The highway to Ranthambore is pretty good with most of the route offering you good views of wheat fields (lush green, depending on the time of your visit) and small hill ranges.
Trip Details
Stay in Jaipur: Oyo 1143 Hotel RDB Palace (Read our TripAdvisor Review here)
Stay in Ranthambore: WelcomHeritage Ranthambore Forest Resort (Read our TripAdvisor Review here)
All travel bookings (including flights) made on MakeMyTrip
Safari Bookings: Made on FMDSS Android App

Flying to Jaipur.
Our onward journey coincided with the Aero India 2019 timings that was held in Bengaluru and as a result our initial flight which was to depart on the 23rd Feb early in the morning got re-scheduled to later that night. Hence, we cancelled that flight and booked another one the previous night at 11:40 PM, which turned out to be a good idea (though slightly more expensive). We landed in Jaipur at 2:10 AM and took a cab straight to the hotel to catch a good night's sleep.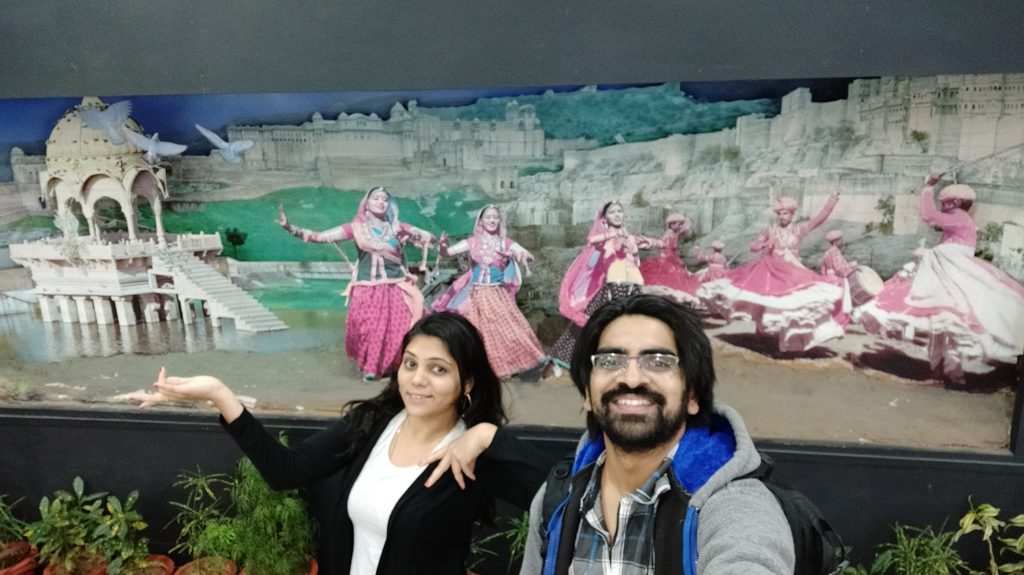 Our Transport in Jaipur
We rented a Swift through Zoomcar to move around in the city and to drive to Ranthambore. Good idea as long as you're comfortable with driving in traffic within the city. Being a touristy place, it tends to get quite crowded at times especially near the Bapu Bazaar and City Palace. So, take your pick. If you prefer driving on the highways, then you might consider using the e-rickshaws and cabs for sightseeing within Jaipur & renting a car to travel to Ranthambore.
Day 1: Jaipur
The places that we planned to cover today were The City Palace, Hawa Mahal and Nahargarh fort with lunch at LMB and dinner at Choki Dhani.
First Stop: City Palace
City Palace is a palace complex, which was, at one point of time, the seat of the Maharaja of Jaipur, the head of the Kachwaha Rajput clan. Finding a place to park near the palace can get quite tricky. So, we parked near the Maharani Factory, where there is ample parking place and walked to the palace from there.
A part of the palace has been converted into a museum, housing various artifacts that were used by the royal family and their soldiers (Clothing, Weapons etc.). Photography is strictly prohibited in areas where these artifacts are displayed. However, the rest of the palace does offer some good views.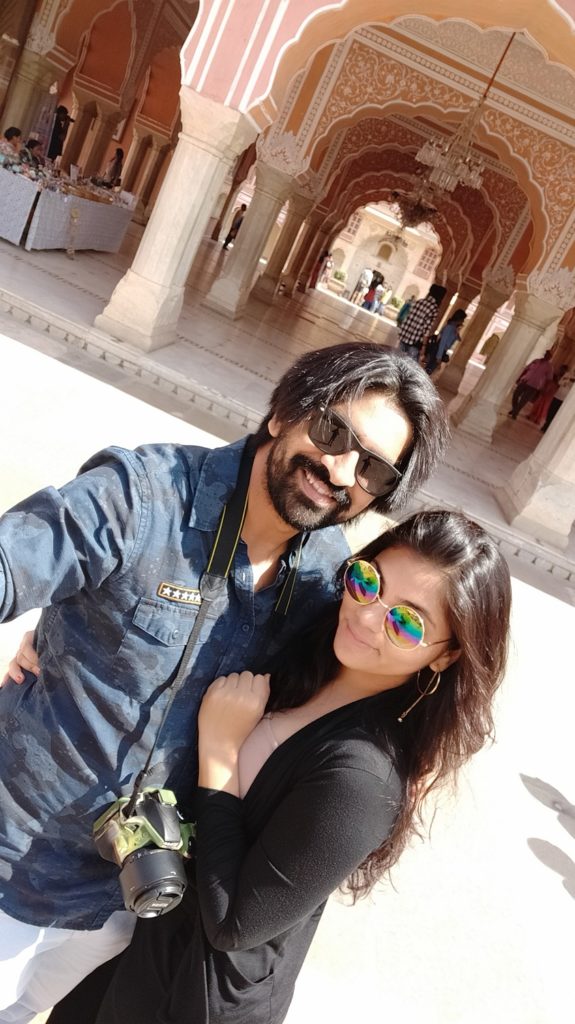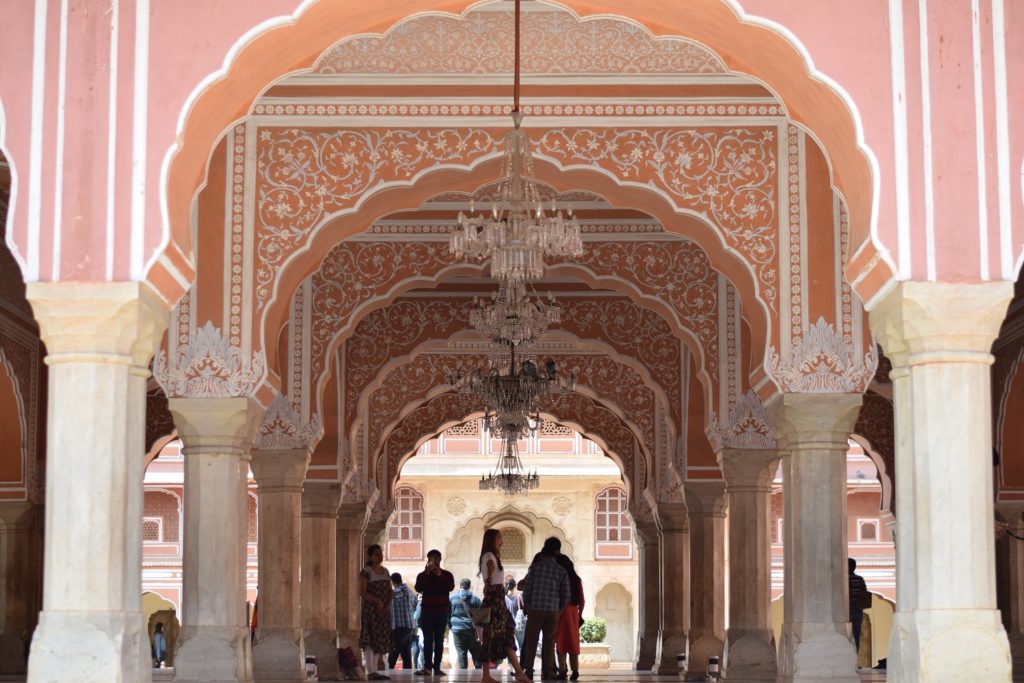 Second Stop: Hawa Mahal
A short walk from the City Palace is the Hawa Mahal. Roughly translating to "Palace of Winds" or "Palace of the Breeze", this is another palace constructed of red and pink sandstone (Which can be said for most structures in Jaipur, which gives it the name Pink City"). Its unique five-story exterior is akin to the honeycomb of a beehive with its 953 small windows. Apparently, the intent of this design was to allow royal ladies to observe everyday life and festivals celebrated in the street below, without being seen, as was the tradition in that period.
Lunch: Laxmi Mishthan Bhandar
LMB, as its popularly known, is one of the most popular restaurants (and a sweet shop) in Jaipur. It's, again, a short walk from Hawa Mahal, and that is where we had our lunch. We tried their traditional thali, which is extremely filling, and a few chats all of which were extremely yummy.
If you plan to return to Jaipur and not fly out from a different city, then we'd recommend picking up the popular Paneer Ghewar and Doodh Phini at that time and not right now. Do not miss them though. Really yummy.
Third Stop: Nahargarh Fort
By the time we were done with our lunch, it was already 4:00 PM and we were left with only about 2 hours before the Nahargarh fort closes for tourists. Walking back all the way to the parking lot would've wasted a lot of time. So, we tried the e-rickshaw. They charge just INR 10 per person for that short ride and we saved quite a lot of time as opposed to walking back to car park.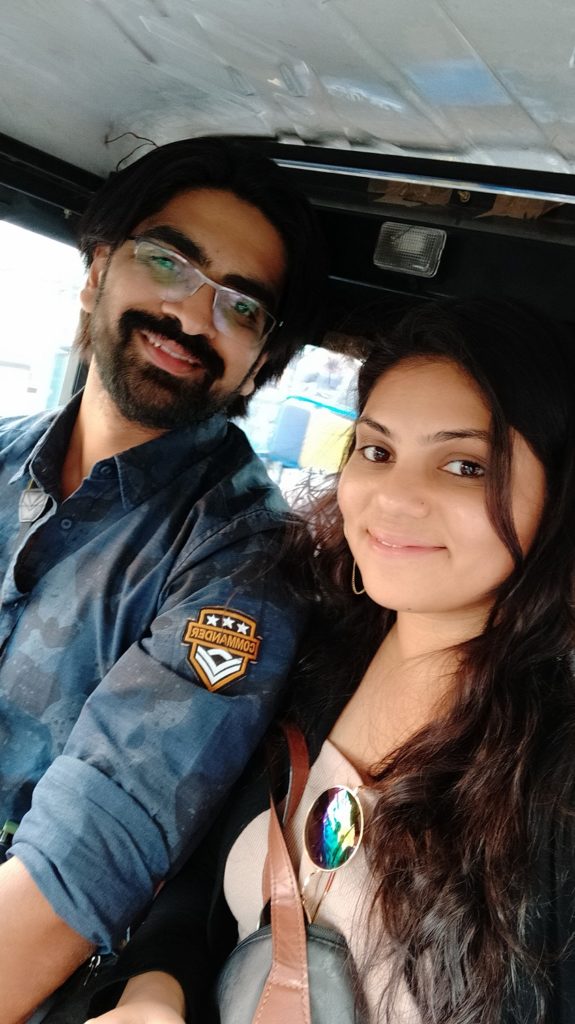 5:00 PM and we reached Nahargarh Fort. There is ample place to park your vehicles here. The Nahargarh Fort stands on the edge of the Aravalli Hills, overlooking the city of Jaipur in the Indian state of Rajasthan and offers you some scenic panoramic views of the Jaipur city and also has a spot set aside away from the fort to view the Sunset.
And for people like me, who love driving on winding roads, you will enjoy driving to and from the Nahargarh Fort.
Dinner: Choki Dhani
If you plan to spend a night in Jaipur, then make sure that you visit Choki Dhani for the traditional Rajasthani dinner experience along with the ethnic Rajasthani ambiance. It is a wonderful place to visit if you're spending only a short time in Jaipur and would like to experience the traditional Rajasthani culture.
Post dinner and walking around for a bit we headed back to the hotel for a good night's sleep. We had to start early tomorrow to Ranthambore for the afternoon safari.
Day 2: Drive to Ranthambore and Afternoon Safari
We were up by 7:00 AM and got ready by 8:00 AM. Post breakfast and after checking out of the hotel, we started driving to Ranthambore. The drive was a little on the slower side till we crossed the city limits but once we hit the highway, there was hardly any traffic and we also spotted many lush green fields with wheat crop all along the highway. Most of the highway is well maintained and we could easily cruise at 100-110 kmph
Hotel
Our hotel in Ranthambore was, WelcomHeritage's Ranthambore Forest Resort. A wonderful property situated pretty much on the road to the tiger reserve.
One of the many good things about this property is that they can arrange for the boarding pass and also have the safari vehicle pick you up from the hotel itself, making this a way more comfortable option. Do note that the road from the hotel to Ranthambore Tiger Reserve is not really good and is better to leave the driving to the Canters and Gypsys while you can sit back and soak in the views. We pretty much did that. We gave the hotel reception the print out of our tickets for both the afternoon and the next morning safari and they took care of the rest of the formalities for a nominal charge. We happily checked in to our room, freshened up a bit, headed over to the restaurant for lunch and then got ready and were waiting to be picked up for the afternoon safari!
Afternoon Safari: Zone 3
Ranthambore Tiger Reserve is divided into 10 zones (pretty big jungle) and you get to pick which zone you'd want your safari to be in, at the time of booking. As with all safaris, spotting a tiger is purely a matter of luck and you'll only have to rely on the information from the previous sightings and depend on the warning calls from other animals. As such, we booked Zone 3 for the 24th Feb afternoon safari and Zone 4 for the 25th Feb morning safari. Zone 3 had the probability of spotting "Arrowhead" along with her 2 cubs (Same was the case with Zone 2 although the canter safari was cancelled in Zone 2 that afternoon). For those of you who know, Arrowhead is the granddaughter of Machli (one of the India's most popular tigress).
We spotted a variety of animals and birds including Spotted Deer, Sambar, Peacocks, Treepies, Crocodiles and Storks but Tigers remained elusive.
There were no tiger sightings in Zone 3 that afternoon. Zone 5 was the lucky one to have spotted 2 (a male and a female).
Once done with the ~3hr safari, we were dropped back to our hotel. Our hotel, WelcomHeritage's Ranthambore Forest Resort, organizes a bonfire and traditional Rajasthani singing and dance performance from 6:30 PM for about 45 mins which was a fun event. We also danced a bit along with the performers.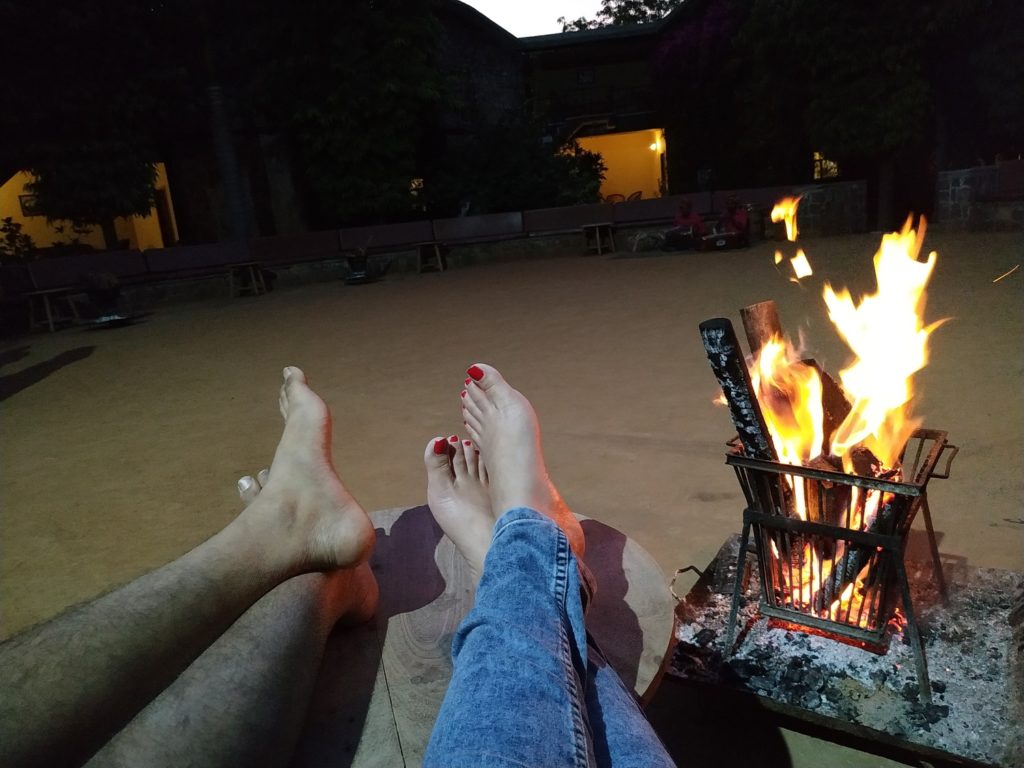 Post this, we headed back to the room to rest for a while and then had an early dinner. We hit the bed quite early as we had to be ready for the morning safari by 6:30 AM, the next day!
Day 3: Morning Safari, Drive to Jaipur and Flight Back to Bengaluru
5:30 AM. The alarm woke us up. We were ready by 6:20 and in the reception waiting for the canter to pick us up. The hotel staff was kind enough to arrange some Coffee and Tea for those of us who had the morning safari.
Morning Safari: Zone 4
People who were in Zone 4, the previous day, spotted 4 tigers (wow!). Based on this information and with information from forest officials, our safari guide and driver took us to the spot with the highest probability of spotting the tiger without stopping at any other locations first up. Unfortunately, the tiger remained elusive. The safari experience, however, was amazing with the landscape changing every now and then from a thick forest to a wide open fields to hilly regions with lakes. We had the opportunity to view (and interact) with a few treepies when about 10 of them sat on our vehicle, possibly looking for some food. I had one treepie sit on my head. Friendly birds these are.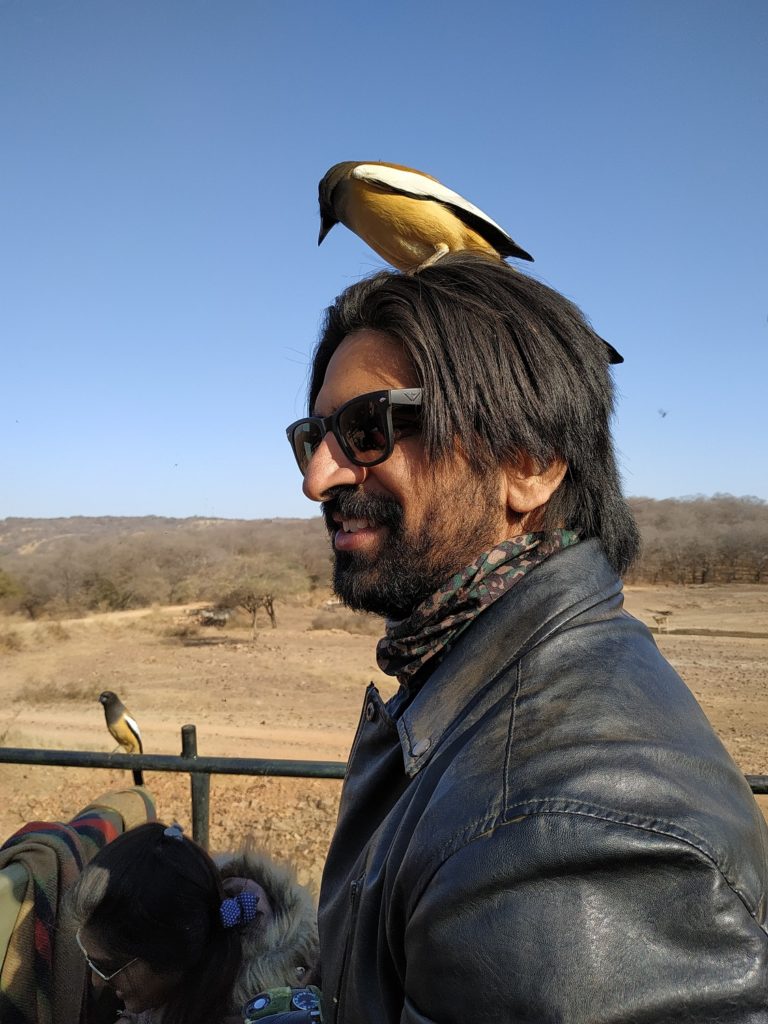 Once done with the ~3hr safari, we were dropped back to our hotel where we had our breakfast, showered and then checked out of the hotel and started our drive back to Jaipur.
Drive to Jaipur
Now, there are two routes that you can take from Ranthambore to Jaipur and vice versa (Actually 3 but we'll be talking about 2 only). Our trip to Ranthambore from Jaipur was around 180 kms and it took us about 3 hours. We ideally should have taken the same route back, but we trusted Google Maps, which took us through the shorter route (150 kms) and still ended up spending more than 3 hours. A bad bargain. We'd recommend taking the longer route along the National Highway 52 and 552 for a stress-free driving experience. It might be 180 odd kms but the roads are well maintained and doesn't take you through many towns which means lesser speed breakers (road humps) and lesser traffic.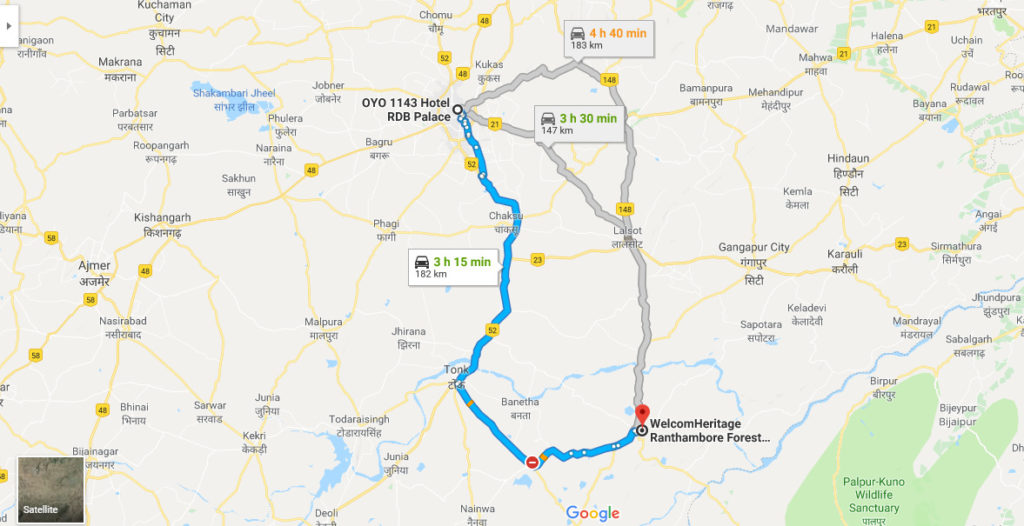 Take the route in blue!
Jaipur: Part 2
Our flight was scheduled to depart at 7:40 PM and we reached Jaipur by around 3:45 PM. Didn't have much time to shop around but in case you have a flight that's really late in the night or the next day, you out to try shopping in Jaipur for some traditional Juttis or Bandhej Dupattas along with numerous souvenirs that are available for sale at Bapu Bazaar (Quite close to Hawa Mahal and City Palace).
We had just enough time to purchase a pair of Juttis, a Bandhej Dupatta and to drop off the car at the Zoomcar's drop-off point before calling for an OLA cab to the airport for our flight back home.
Best Time to Visit
October to March would be the ideal time to visit Ranthambore with the tiger reserve being closed for tourists from July to September. Summer would kick-in towards the end of March and might a little too hot for a few. For those of you who do visit in the winters and have a morning safari, remember that it does get quite cold, especially early in the morning before the sun is up and it might be wise to carry a jacket and maybe a scarf.
Cheers! Happy Travelling!