How interesting can a ~280 kms drive from one city to another get? Of course, the answer largely depends on what your destination is (and of course your driving skills). However, when your destination is Coorg a.k.a Kodagu irrespective of whether you choose to stay in Madikeri or Kushalnagar, the chances of your drive being filled with amazing visuals and spectacular winding roads, are pretty high.
Driving to Coorg
Our point of origin was Bengaluru (GM Palya to be kinda precise). Given the distance and the expected traffic, we decided to start by 5:00 AM (and we did manage starting with just a 30-minute delay which is extremely good going by our standards)
Now, there are two distinct ways to reach Coorg, via NH 75 (Mangalore Highway) and via NH 275 (Mysore Highway) both of which will converge somewhere close to Kushalnagar. Both the roads are in good condition. However, the main difference is in the traffic conditions. NH 275 does have more traffic in comparison to NH 75.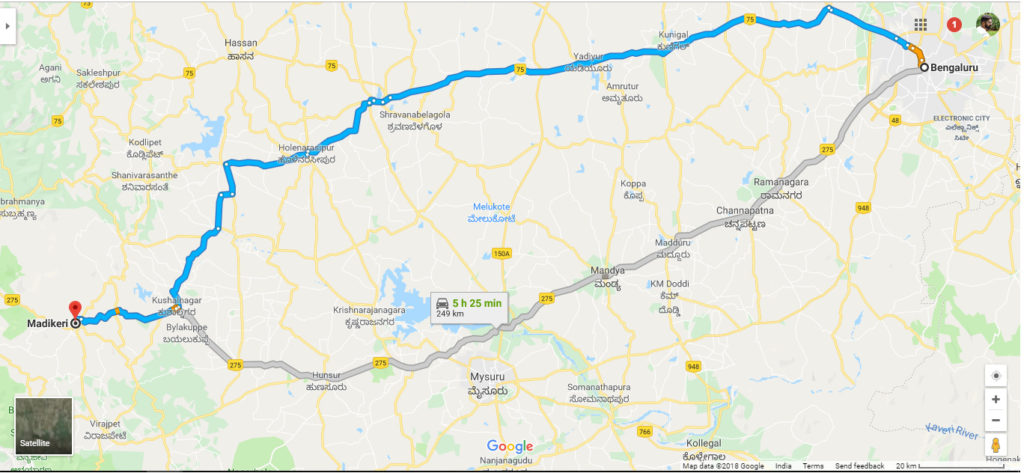 Since we wanted to explore both ways, we took the NH 275 on our way to Coorg, passing through Ramanagara, Channapatna, Madduru, Mandaya, bypassing Mysore, Hunsur, Kushalnagar and then Madikeri. This route does have some good places to eat, the renowned one being Kamat Lokaruchi (Should try the Idlis here, one of my favorites). However, since we started at 5:30 AM, we encountered very little traffic and we reach Kamat by 6:45, which is hardly time for breakfast and hence skipped Kamat (We did have our breakfast a lot closer to Coorg at a Café Coffee Day outlet).
For those of you who are enthusiastic about winding roads, this will be a wonderful journey. The incline isn't too steep, and the curves aren't the hairpin curves. Chances are that you'll start loving driving in ghats after this drive. For the more experienced drivers out there, this will be an easy but enjoyable stretch
At Coorg
We checked in to our room by around 11:30 AM. For those interested, you may check our Treebo Vrindavan Coorg. This hotel is ideally located close to the highway and the tourist spots such as Raja Seat and Mandalpatti are quite easily accessible and the rooms and very spacious and clean.
Day 1
Mandalpatti
After freshening up, we proceeded towards Mandalpatti, possibly, our most favorite place to visit in Coorg. Read all about that trip here. Remember, you can use Royal Brothers to rent bikes in Coorg, but they explicitly do not allow taking the bike all the way up to Mandalpatti (a justified restriction in our opinion).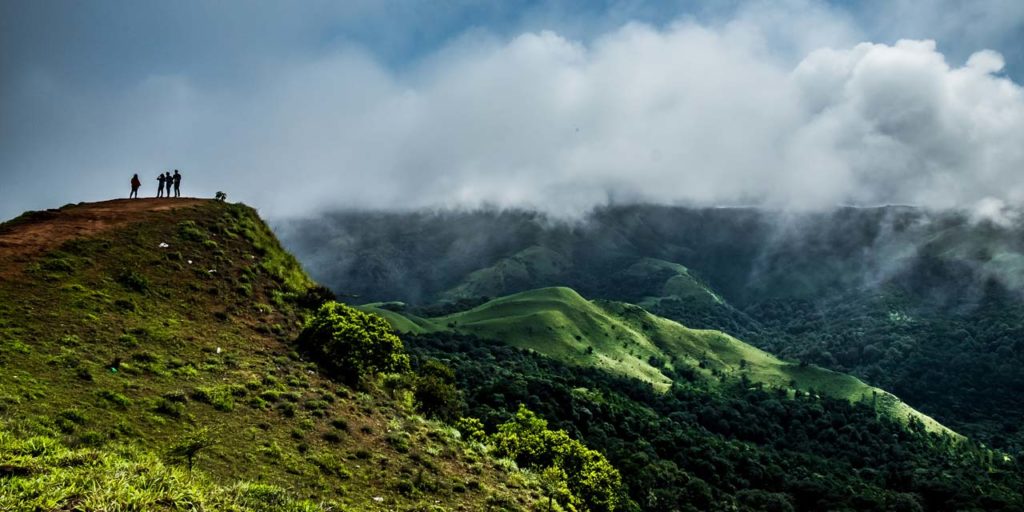 Abby Falls
Abby falls happens to be on the way to Mandalpatti if you choose to go that way. However, since we visited Coorg in December, there wasn't much water flow and hence we skipped this. If interested, you may visit to be welcomed with views such as the one below: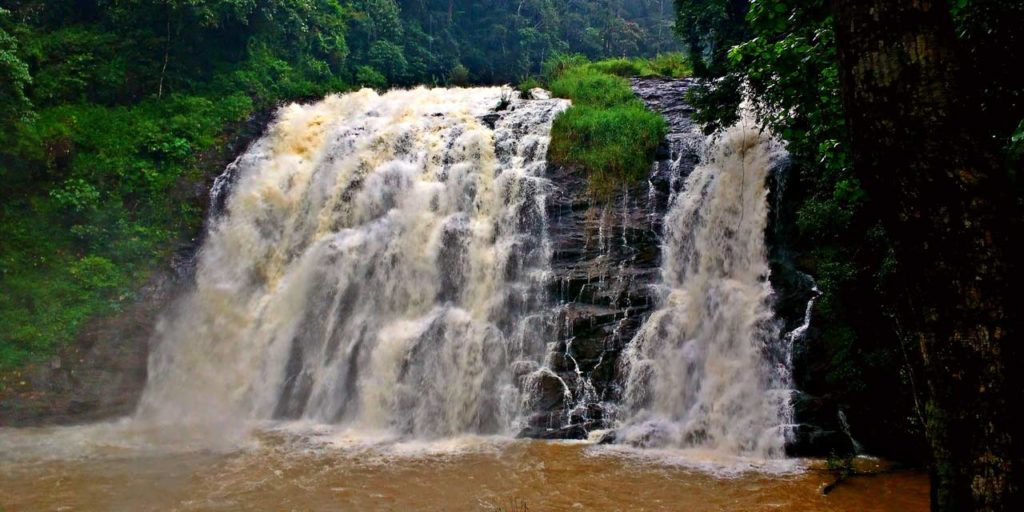 Lunch
Once done with bumpy yet amazing Mandalpatti trip, we headed back to Madikeri and stopped by "Coorg Cuisine" to try out local Coorg cuisine. This is one of the highest rated restaurants in Coorg and a place that you can definitely explore. We ordered take away and had lunch at the comfort of our hotel room.
Raja Seat
After resting for a short while, we headed towards Raja Seat park, which is a spectacular place to view the sunset. Be sure to cross check the sun set timings on the day of visit and reach there about 20 to mins earlier. Given the nature of this park and the fact that this is tourist city, you may expect the place to be crowded at this time. Finding a place to park will be also be quite tough. However, if you reach early, there is an open ground, where there would be a few buses parked. We parked our vehicle here and walked for about 100 to 150 mts to the Raja Seat entrance. The park has an entry fee of INR 5.00 per person. Although the place was crowded, there will be enough space to soak in the views. Well, when the views are like these, one wouldn't mind adjusting a bit in a cramped spot!
Dinner and Night Drive
The next restaurant that we tried was "Greenland". There is plenty of parking on either sides of the wide road that this restaurant is situated in. Food was quite tasty but be ready to wait for a while. The service is relatively slow, possibly due to the high demand. By this time, fog started settling in. That again was a beautiful sight where you could see the fog moving wherever there are lights (street lamps, head lights). We drove through the winding roads for a short while (to reach the hotel) and enjoyed every bit of this ride.
End of Day 1
Day 2
Breakfast & Room Check-out
Treebo Vrindavan Coorg does serve delicious breakfast. We could choose from Idli, Tamarind Rice, Dosa and Toast with butter. Had the complete homemade vibe to it. Post breakfast, we checked out of our hotel room and started towards Nisargadhama.
Nisargadhama
Nisargadhama is an island formed by river Kaveri near Kushalnagar in the district of Kodagu, Karnataka, India. It is approximately 3 km from Kushalanagar and 30 km from Madikeri. We stopped by to dip our feet in the Kaveri river and to enjoy the view such as this.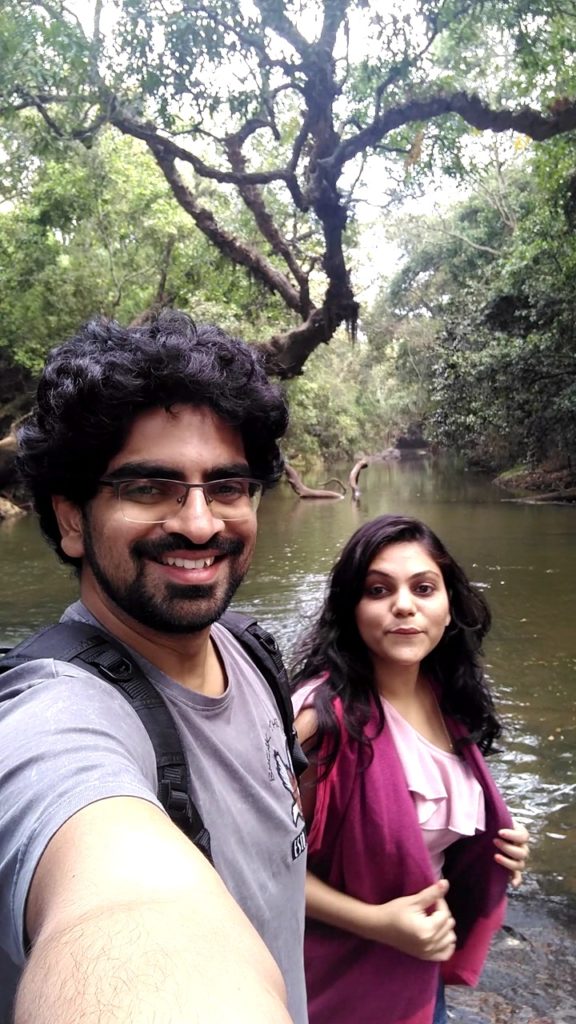 This place also has an entry fee of INR 10.00 per person. You will find this place to be mildly crowded with most of the people near the water. Most of the rocks in the water are, surprisingly, not slippery and you can walk in quite a bit. The water is pretty shallow at most of the accessible places. Nisargadhama also has an enclosed deer park where there are multiple spotted deer. Time for quick selfies??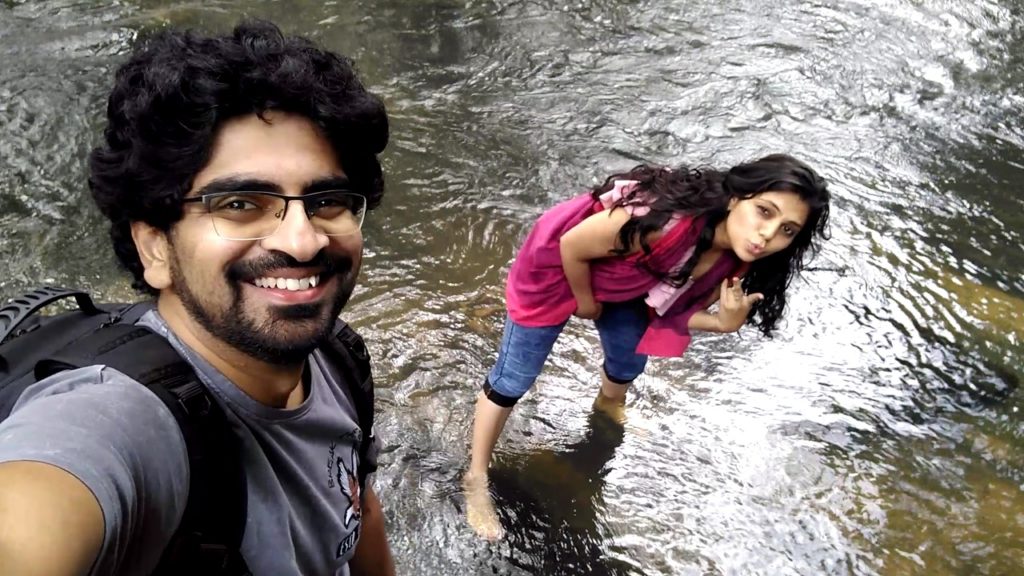 Dubbare Elephant Camp
Dubare Elephant camp is a project undertaken by forest department and Jungle Lodges and Resorts Ltd. The visitor can not only observe and learn but also participate in various activities involving Elephants. (Taken from https://www.dubareelephantcamp.com/). Remember that the elephant camp is open from 9:00 AM to 11:00 AM and then 4:30PM To 5:30PM if you wish to go for the elephant feeding and bathing. We missed the morning slot so headed back towards Bengaluru.
Drive back to Bengaluru
As highlighted earlier, we drove to Coorg on the NH 275. For the return trip we used the NH 75. Trusting Google Maps for this happened to be a fantastic decision and it took us through some scenic routes. We were passing through small villages/towns with lush green fields (must be the harvesting season). The roads were incredibly well maintained, and the drive was just fantastic.
Once we hit the highway, we found out this road was a lot wider and very well maintained. We were cruising for most of this highway at around 100 to 120 kmph. You'll also find several eating joints along the highway making this route a better choice for both onward as well as your return trip. Once we reached closer to Bengaluru, we encountered a slight increase in traffic, but it still beats the traffic congestion that you would face on the Mysore Road.
P.S.: This is toll road and you would probably find a queue at the toll collection point. We hadn't topped up our Fastag and hence couldn't use the Fastag lane.
Best Time to Visit
Based on our interaction with the locals, Mid-August to Late-October appears to be the ideal time to visit Coorg. That would be around the time when it's that shade of green that'll remind you of the reason that you've fallen in love with hill stations. Adding to this would the foggy views that Mandalpatti and Raja Seat would offer at this time of the year and the fact that Abby Falls might have more water and hence make for a fantastic view!