Bali is probably Indonesia's most famous island. Located to the west of Java, Bali is renowned for its rice terraces, stunning beaches, forested volcanic mountains and coral reefs. It is also one of the most popular honeymoon destination and is filled with Villas that offer beautiful experiences and a magical time that one would surely cherish! Nyuh Bali Villas is one such property that is situated in the heart of Seminyak and it's where we stayed for 6 nights! Read on to know more about our experience.
Location
Seminyak is a beach resort area at the southern end of Bali, Indonesia, with many luxury hotels, villas and spas, as well as high-end shopping and restaurants. Situated in the heart of such an area and at the same time just a short 15 minute ride from the Ngurah Rai International Airport, is the Nyuh Bali Villas. It is situated ideally close to many world class restaurants, mini markets and money changer. If you're bored, you could take a walk around the area and explore as needed.
The beach is around 5 mins by car and the hotel arranges a drop and pick up service, not just to the beach but to other places in Seminyak!
About the Property
The thing with Bali is that the moment you land at the airport you feel like your holiday has begun (actually the approach itself gives you that feeling)! We had asked the hotel to arrange for an airport pick up and it was waiting for us as we exited the airport. We reached our hotel in no time after making a quick stop to buy a tourist sim card.
With 24 hours reception, Onsite day spa, Laundry service and dry cleaning, Room service, Complimentary WIFI, Onsite restaurant, Nyuh Bali Villas has a plethora of facilities all of which make this a wonderful property to stay in.
Check-in:
As soon as we reached the hotel, we were greeted by the ever smiling Dewa who ensured that our check-in process took less than 5 mins and then was kind enough to give us a wonderful tour of the property as well as our room!
Room
We had made our booking directly on Nyuh Bali's Website and chose the "Exotic Honeymoon Getaway-Pool Villa". Upon completing the booking, we got a confirmation email as well as preference of dates for some of the activities that we've chosen. Everything was taken care of as planned.
Each such villa comes with its own Private Pool and an open air shower along with an indoor bathtub. The way the room was setup was brilliant and we right away got that feeling that we wouldn't want to leave the room at all, which is what we ended up doing most of the time!
The private pool is not too deep to be troublesome for people who don't know how to swim and at the same time it isn't too shallow as well. It would be around 5 feet in depth which was ideal for us as neither of us know how to swim but both of love being in water! How ironic, right?!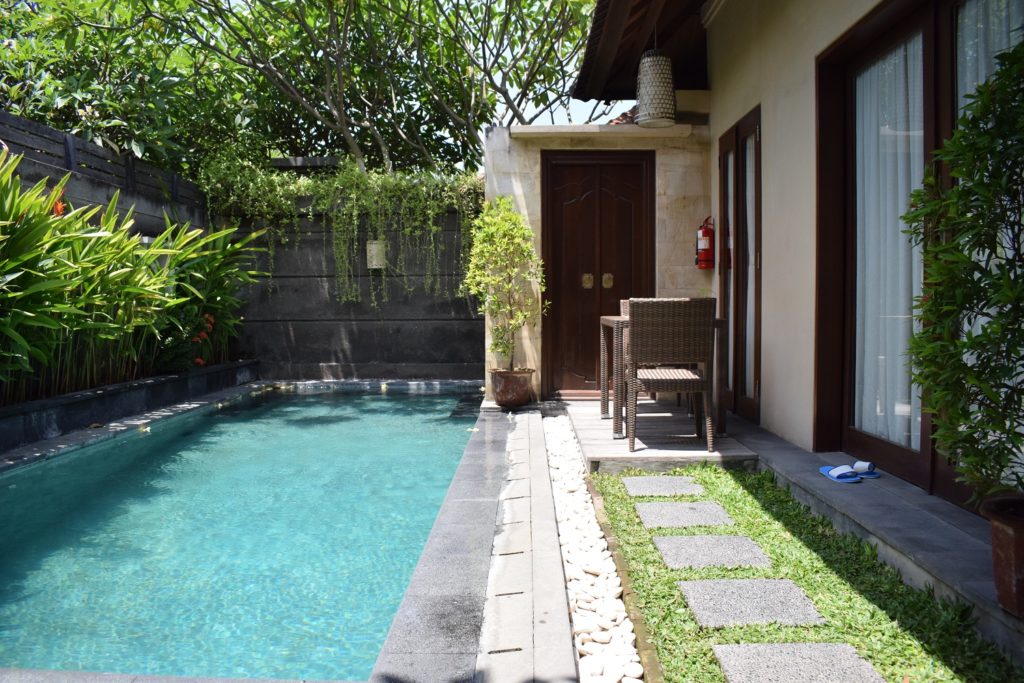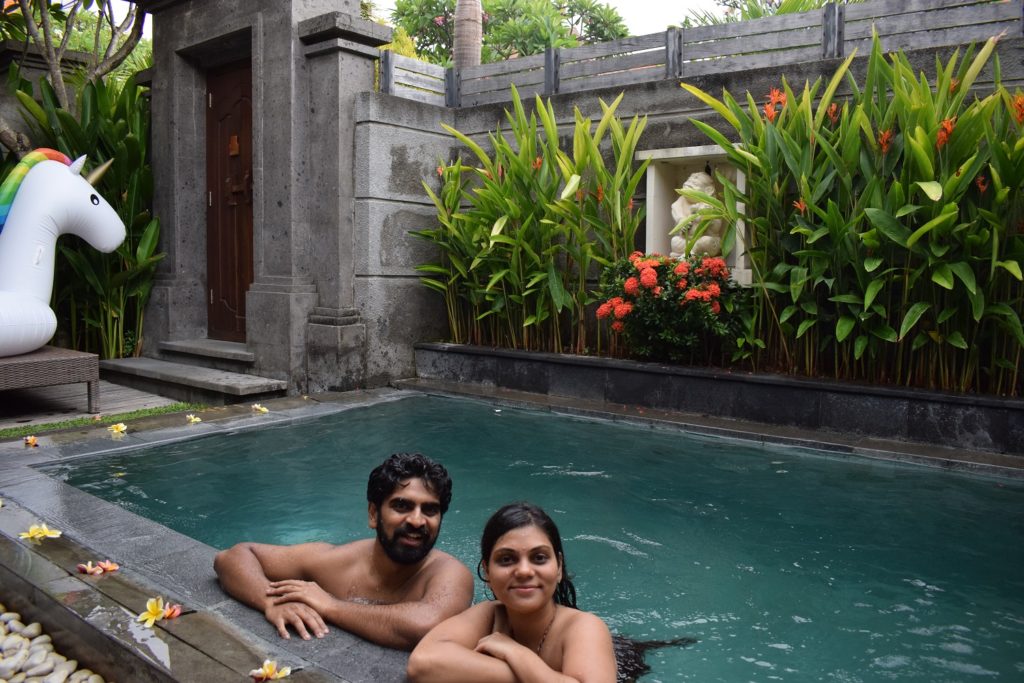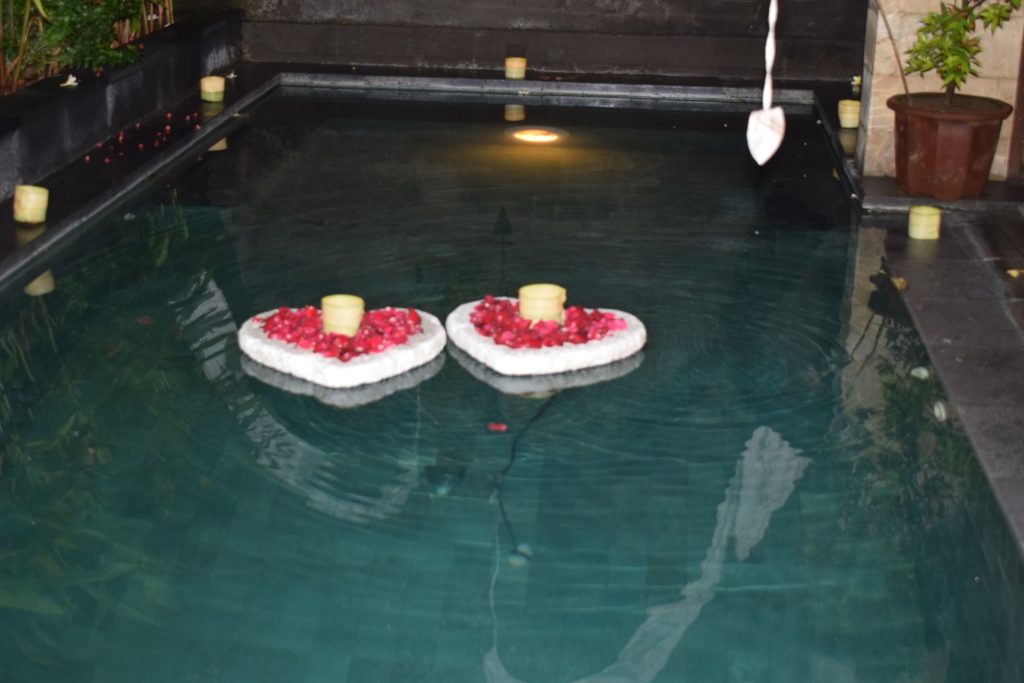 Bathroom
The bathroom is a very interesting setup. It is separated from bedroom with sliding doors on either sides of the bed. The main bathroom has a wash basin and a large bath tub. There is also a bubble filled dispenser that you can use whenever you feel like! On one side of the bathroom there is the open air shower which is also connected to the private pool. On the other side of the bathroom is the washroom with a western commode.
Cleanliness is an aspect that Nyuh Bali's staff is very particular about and this shows in the entire room. It was sparking clean and had all the necessary amenities that made our stay wonderful. Right from the usual kits and towels, everything was fresh and clean!
Food
The room that we booked came with a daily breakfast that is served right in the room. They have a a few different breakfast option and you'd have to let them know your choice the previous night along with the preferred timing. Given that we spent a lot of time in the hotel, we really got to try out the food they had to offer and we've gotta say, it was yummy! We totally loved trying out all the items available and their breakfast with fruits and bread basket sure was a great way to start the day! Another dish that we loved was their Nasi Goreng, which is a kind of an Indonesian stir-fried rice.
Another thing that was part of our package was a candle lit dinner and the staff made sure that not only did we have a wonderful time, but also that we were well fed with delicious dinner and lovely red wine!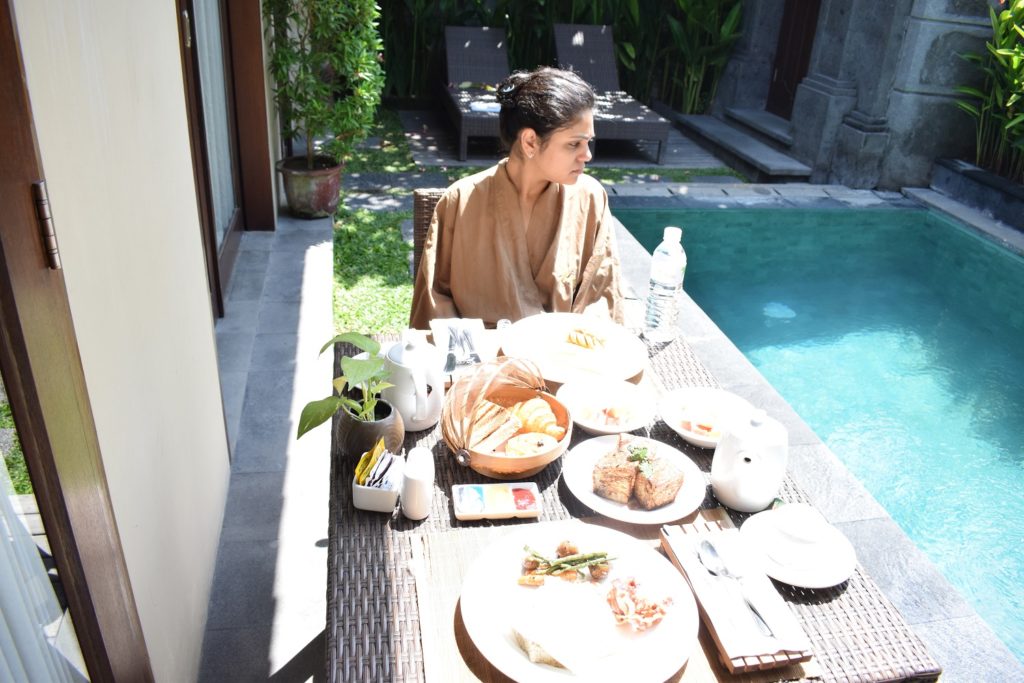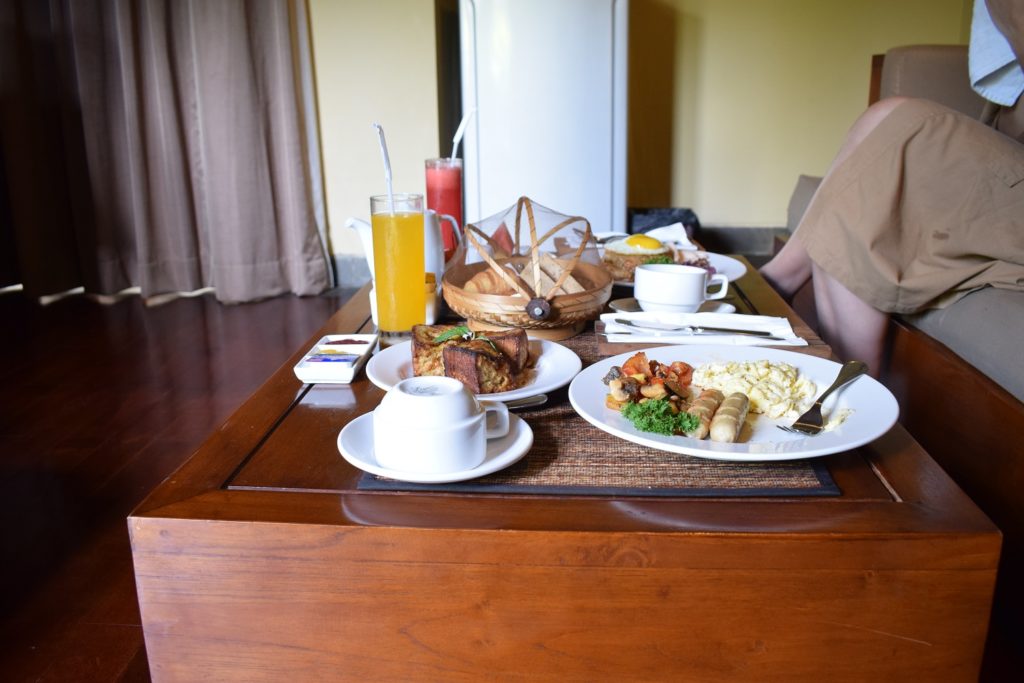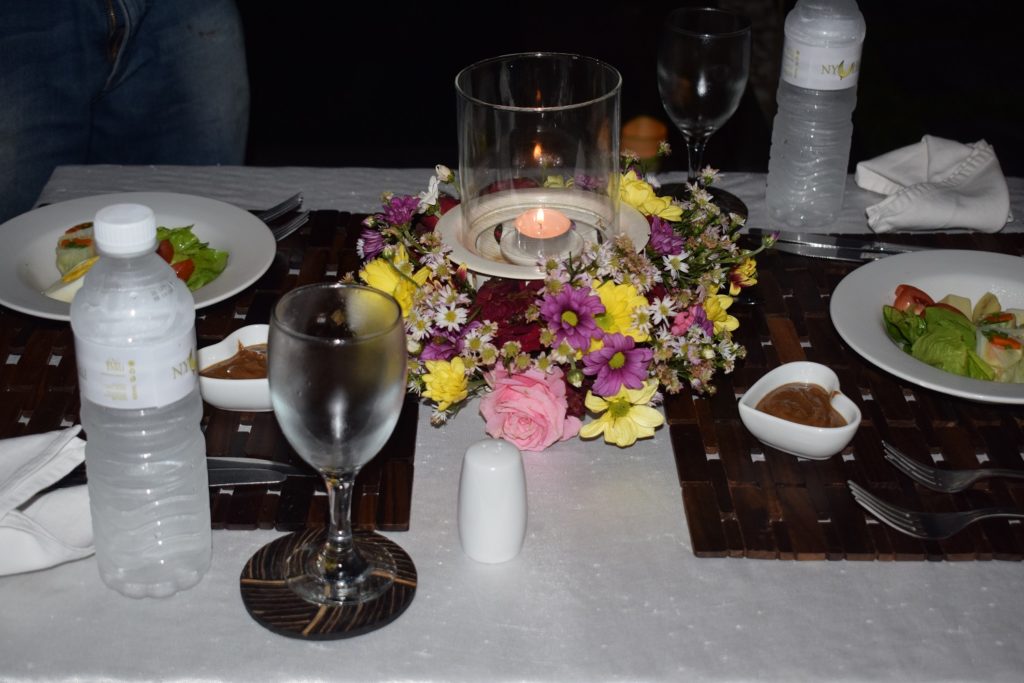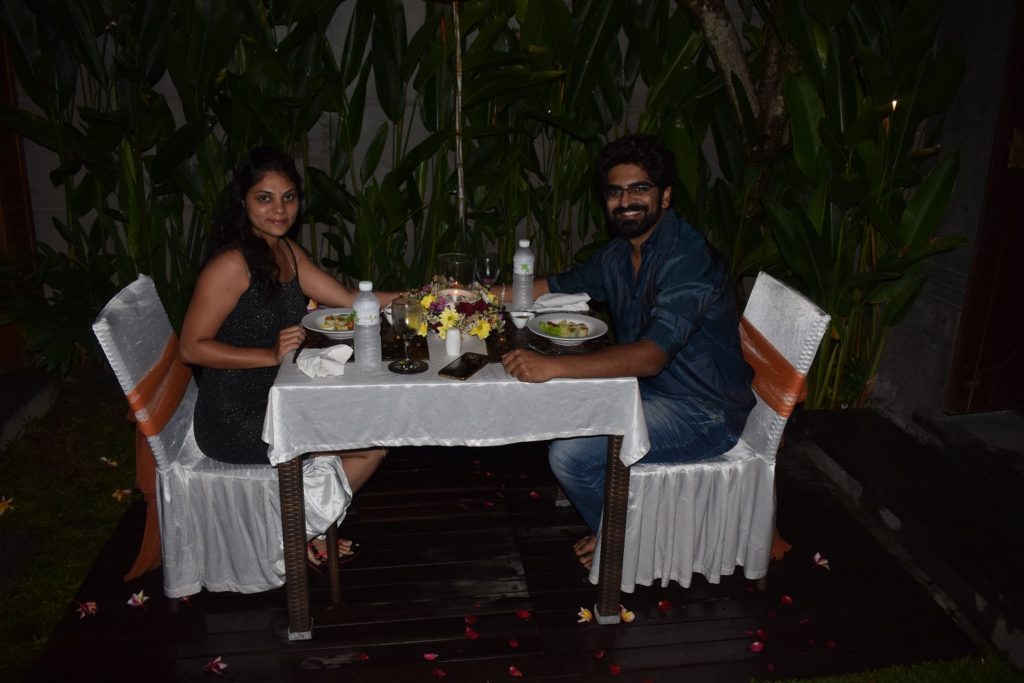 Check-out:
The check-out process was relatively straightforward since we made the payment online. We did use the in-room minibar quite a bit and we also ordered room service, especially considering that we spent a lot in the room itself. However, the associated charges were not insanely high!
Since we had pre-booked the airport pick-up and drop, we didn't really have to worry about finding a taxi to the airport! It was all ready by the time we were ready to leave!
Customer Service:
We, so far, spoke about the villa and the food both of which were exceptional and going by our words, it might sound like nothing else can beat this. However, the service and the friendly attitude from the staff at Nyuh Bali Villas was simply amazing and it what makes this a great place to stay. Right from the airport pick up, we were greeted by friendly and smiling faces! Our guide for our half day tour, Jay, was very enthusiastic and very informative. We got to know quite a bit about their culture, which incidentally, is quite similar to the Hindu traditions.
Dewa and his team managed to "sneak-in" to our villa to make the arrangements for our candlelit dinner, which again was exceptional.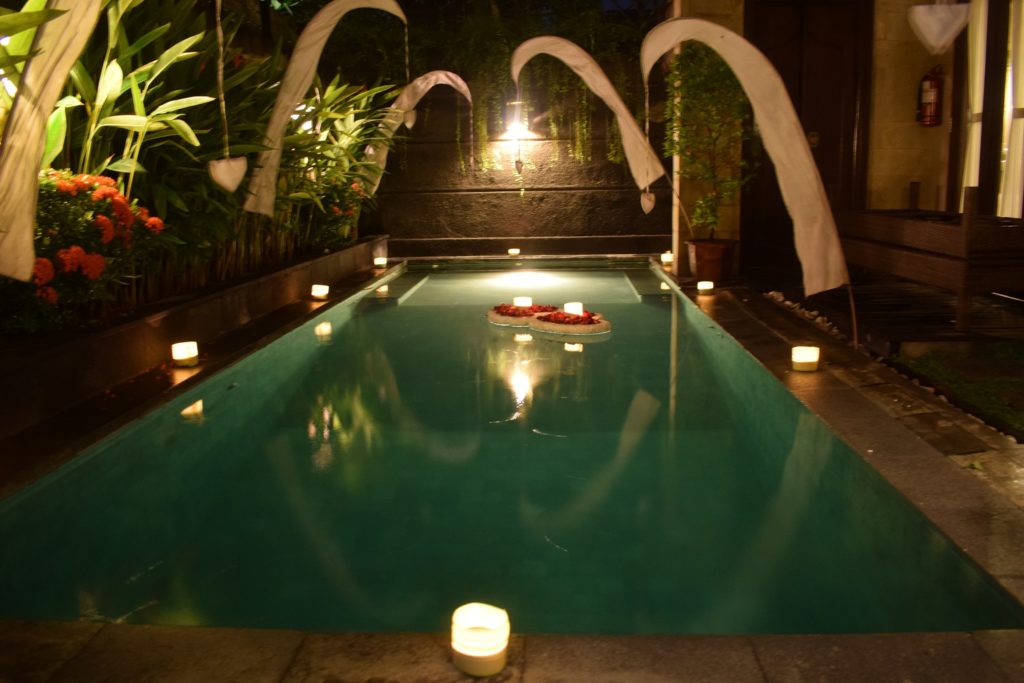 What was amazing was the fact that Dewa was constantly in touch with us to check on our flight status and our journey, right till we reached India.
All goes to show that the Nyuh Bali Villas staff do their best to ensure that you have a memorable stay and that you return with some beautiful memories!
Final Verdict & Ratings
Well, by now you all must have realized that we totally enjoyed our stay at Nyuh Bali Villas and that we'd surely recommend this to anyone who'd like to stay in Seminyak. We'd surely go back there the next time we're in Bali!
Until next time!
The RE Travelers